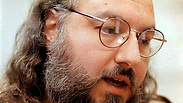 Jonathan Pollard. Even if he is released, he will likely have to stay in the US
Photo: AP
Jonathan Pollard: A war of spins and a history of failures
Why have all the attempts to release the Israeli spy from US prison failed, when did Israeli leaders come close to convincing the Americans to free him, and is there any chance that he will be received at Ben-Gurion Airport as a national hero?
Prime ministers, ministers, Israeli ambassadors to Washington and other Israeli officials were all involved for decades in the attempts to bring to the release of Israeli spy Jonathan Pollard from prison. It was Prime Minister Benjamin Netanyahu who came the closest (twice) to convincing the Americans, but his attempts, too, were unsuccessful.

Over the weekend, Pollard unwittingly found himself in the midst of a spin war between the Obama administration and Israeli officials over reports that the Americans were considering his release.

Israeli Spy

Tova Tzimuki, Itamar Eichner

Following report that convicted Israeli spy is to soon be released by US after 30 years, Israeli officials deny claims that development is linked to the deal with Iran over its nuclear program.

On November 21, in about four months, Pollard will complete 30 years in prison, after being sentenced to life for spying for Israel.

But even if he is released, Pollard will likely not be allowed to leave the United States.

The spin war began following a report on the Wall Street Journal in which US officials were said to confirm that the administration will soon release Pollard in the hopes this move could help improve the strained ties with Israel over the nuclear agreement with Iran. Despite the fact the White House was quick to deny all connection to the Iran deal, the report caused a lot of anger in Israel.

Commenting on the recent reports for the first time, Israeli officials stressed that there was no connection between Pollard's release and the agreement with Iran, saying that "Pollard is supposed to be released on November 21, 2015, when he finishes serving 30 years' imprisonment. If the American administration interferes in that, it would be very serious."

The officials said that a hearing on Pollard's release took place three weeks ago. "There is no involvement by the American or Israeli government; it's a usual legal procedure," they said.

The officials rejected a report that there was any link between preparations to release Pollard and a desire to assuage Israel after the agreement with Iran.

Last week, Jewish news sites in the US reported that the chances Pollard would be released on November 21 were increasing. The American administration refused to comment on these reports until the Wall Street Journal report at the end of the week.

The White House was quick to make clear that the parole board would make the decision, and the Justice Department said Pollard would have to finish serving his full sentence.

"Mr. Pollard's status will be determined by the United States Parole Commission according to standard procedures. There is absolutely zero linkage between Mr. Pollard's status and foreign policy considerations," said Alistair Baskey, an NSC spokesperson.

The Israeli government did not like the connection made between Pollard's release and the agreement with Iran and were concerned this was an American spin. In an unusual move - despite the fact that official Israel traditionally remains quiet on the subject - Israeli officials chose to clarify that Pollard's release was a legal procedure, and that there were no negotiations or political moves.

The chairman of the Knesset's Foreign Affairs and Defense Committee, Tzachi Hanegbi, said that "The United States should have released Jonathan Pollard years ago. A long list of American defense and political officials publicly wondered why the administration remained so strict about Pollard's continued imprisonment... I hope that regardless of the legitimate argument between Israel and the United States on the nuclear agreement with Iran, I would be able to invite Pollard to be a guest in my sukkah this coming Sukkot."

Culture and Sports Minister Miri Regev said "Pollard deserves to be released not as compensation for the nuclear agreement with Iran. Pollard deserved to have been released a long time ago. The agreement with Iran is a big mistake, a capitulation to terrorism."

MK Nachman Shai (Zionist Union), chairman of the Knesset lobby for Pollard's release, said: "Pollard is not a political bargaining chip and the attempt to turn him into one and bind him to the Iran deal or the release of Arab prisoners is ridiculous, embarrassing, and humiliating. The time has come to release Pollard. He has earned his freedom on right and not on sufferance. Thirty years in jail, more than any American prisoner for a similar offense. Pollard will be released, now."

MK Michael Oren (Kulanu), formerly Israel's ambassador to Washington, said that "if the reports about Pollard's impending release are indeed true, I would be very happy. As an Israeli ambassador who visited Pollard in prison and worked non-stop for his release, I know how much his released from the long imprisonment is an act of compassion that touches the heart of every Israel. Of course there is no connection between Pollard's release, which is about mercy and justice, and the bad deal with Iran, which is about security and existence."

Former minister Rafi Eitan was the head of Lekem (the Bureau of Scientific Relations) when Pollard was arrested in 1985, and was in essence his handler. Eitan resigned from the intelligence community after Pollard was discovered, Lekem was disbanded, and Pollard and his associates accused Eitan of abandoning him.

Following reports of Pollard's release, Eitan told Ynet: "Whatever I say, I have no influence on that. Like every Israeli citizen, I hope and believe he'll be freed, but beyond that I have no knowledge of the subject, only a prayer and a plea that he is released."

US Senator Lindsey Graham said Pollard's release "would be nothing more than a pathetic attempt by a weak administration to curry favor with our Israeli allies who across the board reject this dangerous deal with Iran".
From Clinton to Obama
Pollard, who was arrested in 1985, was convicted of spying against the United States and conspiring to transfer sensitive security information to Israel. In 1987, he was sentenced to life in prison.

The parole board can choose to release him, or alternatively claim that Pollard regularly and seriously broke prison rules, or that there was a logical reason for concern that he would commit another crime following his release. That is why Pollard's release is not connected to the nuclear agreement with Iran, or any other agreement reached by the American administration.

In the mid 1990s, more than 10 years after Pollard was arrested, the Israeli government began assuming responsibility for him. Jonathan became Yonatan and a series of government ministers began paying him visits at the Butner Prison in North Carolina, making patriotic headlines at Pollard's expense, and making him think that he was about to go home.

I visited the prison with former Minister Eli Yishai. At the entrance we had to sign that we would only speak English. Minister Yishai only spoke Hebrew of course, but the US Navy intelligence official who escorted us was listening and didn't seem particularly concerned.

Pollard was clear and well-prepared for this meeting and for the many meetings which followed with ministers, Israeli ambassadors to Washington and consuls from Atlanta, but nothing came out of it. The strategy of making noise instead of keeping a low profile badly hurt Pollard.

In two interviews I held at the time with a senior CIA official and with his Jewish commander at Navy intelligence, they found it difficult to understand why Israel was supporting the man who they said had tried to sell state secrets to Israel, but also to several other countries.

Throughout those years there were two opportunities to release Pollard, and they both involved Prime Minister Benjamin Netanyahu. The first was in the Wye plantation talks in 1998. Netanyahu applied pressure and then-President Bill Clinton was inclined to agree, but CIA Director George Tenet threatened to quit and Pollard's release fell through.

The second time was during last year's talks between Israel and the Palestinians led by Secretary of State John Kerry. Kerry had hoped that Pollard's release would help advance the talks, but the talks collapsed along with the last effort to release Pollard ahead of time.

Over the years, Israeli leaders raised the Pollard issue every time they arrived at the White House. Former President Shimon Peres made a personal request to President Barack Obama, but that didn't help either. Sources in the White House explained that the American president would not release a spy from jail while those convicted of drug abuse for the first time and sentenced to 10 years, mainly black people, were rotting in jail.

President George W. Bush was a big Israel supporter, but former Prime Minister Ariel Sharon and Ehud Olmert each discovered during their terms that he was strongly against Pollard's release. The Republican security experts were the biggest opponents of the release.

The past few years have seen a change, and many former officials from the security and legal establishment joined the request to release Pollard. The request was also joined by two former Republican secretaries of state, Henry Kissinger and George Shultz, and CIA Director James Woolsey, who was appointed by George Bush, Sr.

As far as President Obama is concerned, Pollard was never a bargaining chip. It would be delusional to think that Obama would release Pollard in order to soften Israel following the nuclear agreement with Iran, when in that same agreement he didn't insist on the release of three Americans jailed in Iran and another missing American person. Obama is being strongly criticized in the US for not releasing the American prisoners as part of the agreement.

Last year, the parole board and US Department of Justice rejected an official request filed by Pollard to release him under restrictions after 29 years in prison. The decision was made after two administration representatives appeared before the board and explained that paroling Pollard at that time would "depreciate the seriousness of the offense and promote disrespect for the law."

The American objection to the release was met with deep disappointment in Israel and in the Justice for Jonathan Pollard organization, as seven months earlier – in April 2014 – Secretary of State Kerry had expressed his willingness to release Pollard as part of the fourth stage of the prisoner release by the Israeli government, including 14 security prisoners from East Jerusalem. The Israeli government eventually refused to carry out the fourth stage following the Palestinian refusal to extent the negotiations, and Pollard's release was also torpedoed.

Even if he does leave prison exactly 30 years after his arrest, Pollard will likely be released under restrictions. He will have to reside in a defined area in the US and report to a local police station regularly, and will be forbidden to give interviews, write a book or deliver lectures on the affair and on his time in prison. It's hard to imagine the parole board allowing him, as part of his probation period, fly to Israel, be received at Ben-Gurion Airport as a national hero and launch a series of interviews against the US.

His wife, Esther Pollard, received a report about the developments in the US from Efi Lahav, head of the Pollard campaign. She felt unwell and requested not comment on the report. A source close to Esther Pollard said, "There is a feeling we are approaching the moment of truth, but things are still unclear and we won't respond until we see an official document from the board."

Pollard's ex-wife, Anne, told Channel 2 following the report on his upcoming release: "There is no official word that Jonathan is being released on any day. Jonathan received a life sentence, and under the United States federal guidelines in 1985, a life sentence means that you serve your entire life in jail. In other words, Jonathan is supposed to stay in a cell until he dies in that cell. Now, after 30 years Jonathan is eligible for parole, so everybody is mistaken and everybody sees this date, this potential date, as November 21st that Jonathan is going to be released. But there is no news, no official response on that whatsoever.

"Because this is all over the newspapers right now, this is the opportunity and the time to seize the moment… Jonathan is very, very ill right now."

Pollard, who will mark his 61st birthday next month, has been suffering from deteriorating health in recent years. He has been hospitalized and operated on several times outside the prison, and in some cases he was in a real life-threatening condition.