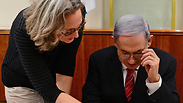 Netanyahu examining the scroll
Photo: Koby Gideon, GPO
Prime Minister Benjamin Netanyahu met on Sunday with representatives of the Israel Antiquities Authority who showed him a 2,000-year-old scroll of the Book of Lamentations found in the Qumran Caves.

"This is an important and exciting finding," Netanyahu said. "There is a lot of significance to the fact that on Tisha B'Av, this scroll is being brought to the Prime Minister's Office in Jerusalem, our united capital."

The scroll was first put on display to the public several days ago at the Bible Lands Museum.

Pnina Shor, the IAA Curator in Charge of the Dead Sea Scrolls, told Netanyahu the scroll's writing is dated at around 30 BCE-70 CE. She said the scroll is the earliest known documentation of the Book of Lamentations, and because of its importance it is being kept in the IAA labs.

Itay Blumenthal contributed to this story.