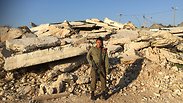 Joanna Chris Arfon, 19, understands the importance of the unit in which she serves more than anyone else. When she enlisted in the IDF, Arfon, an Israeli of Filipino descent, asked to join the search and rescue unit of the Home Front Command, after soldiers from the unit saved her grandmother from a vicious typhoon that hit the Philippines.

Arfon was born in Israel. Her father Ridim Nama Imelda Bliblos arrived in Israel from the Philippines with her older brother, and stayed in the country after receiving temporary resident status.

In 2013, the Philippines was hit by a strong typhoon named Haiyan, which left large-scale destruction. Thousands were killed and tens of thousands lost their homes.

Arfon's grandmother lived in an area that was hit by the storm, and after the family could not reach her, they decided to fly out to the Philippines to search for her.

"We lost contact with grandma, but we knew her situation was not good. They transferred her from the island where she lives to the city, and she was hospitalized. We were there for three weeks, at a time when life there was very difficult, with many dead, and a lot of destruction," Arfon said.

During the time she accompanied her grandmother in the Philippines, Arfon saw the search and rescue forces of the Home Front Command in action saving lives.

Her grandmother and others around her spoke of the special Israeli force that rescued them from the rubble and provided them with medical care. Arfon asked around and found out that the force belonged to the IDF's Home Front Command, and was immediately filled with pride. It was at that moment she decided that regardless of her temporary status, she would do everything in her power to join the IDF and become a combat soldier in the search and rescue unit of the Home Front Command.

"My grandmother and others who were injured told me the forces of the Home Front Command saved them, and that without them they aren't sure they would have survived. I realized that they save people who they don't know, quietly and modestly, and only with good intentions. I realized that I want to belong to this country and this unit," she said.

When Arfon returned to Israel, she fought in order to enlist in the IDF, and after receiving her Israeli citizenship, she was able to realize her dream, and joined the search and rescue unit as a combat soldier. "The position is very fulfilling," she says. "And most importantly, my grandmother is very proud of me."