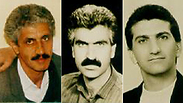 The three men declared dead
A year after the Mossad declared that eight Jews attempting to flee Iran in 1994 were murdered on their way to Israel, the agency recently learned that three others Jews who left Iran in 1997 met the same fate.

Following this discovery, the Rabbinical Court has decided that their wives can be declared as widows, hence allowing them to remarry.

Brothers Cyrus and Abrahim Karamani and Nurallah Ravizada left Tehran in February 1997. They were to meet a smuggler at the Pakistani border but never arrived, and no trace of them was found.

Three years before that, eight Jews left Iran in three groups, intending to reach Israel, and went missing. Their relatives, who arrived in Israel via Turkey, claimed over the years that the government was not doing enough to locate the missing people.

A few years ago, Prime Minister Benjamin Netanyahu ordered Mossad Director Tamir Pardo to intensify the investigation into the disappearances.

In March 2014, the Mossad said it found out what happened to the eight people who disappeared in 1994 – they had been caught while escaping and were killed.

The other three missing Iranians' relatives were recently updated on new information that came to light that the three had been captured and killed as well.

The families have requested to meet with the president and prime minister and be officially informed of the news by them.

Yehuda Kasif, who has represented the families for years, said that "after 18 and a half years of intensive, persistent searching, the mystery of the missing Iranians has been solved and the tragic ending have arrived.

"Last year, before Passover, it was announced that the eight Jews who disappeared in 1994 on their way to Israel were murdered by their smugglers or by border guards. Now we have been told that the fates of the three Jews who left their homes in February 1997, brothers Abrahim and Cyrus Karamani and Nurallah Ravizada, was no better and that they too were murdered on their way to Israel. There is nothing to add to everything that has been said during the long years of searching."