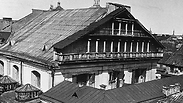 A ground-penetrating radar survey carried out in June in Vilnius, the capital of Lithuania, discovered the remains of the Great Synagogue, which was destroyed by the Nazis 70 years ago.

The elaborate structure was built in the 17th century; at its center was a large space used to study Torah and celebrate community events. It was known as the beating heart of Lithuanian Judaism.

The complex housed another 12 synagogues, religious schools – including that of the Vilna Gaon – ritual baths, the Jewish community council building, kosher meat vendors, and the famed Strashun Library.

In June 1941, the city of Vilnius was overrun by the German military, which ransacked the complex and burned it. Over three years of Nazi occupation, the vast majority of the city's Jewish population was murdered. Upon the Red Army's return in 1944, a modern school was built on top of the synagogue's ruins.

The team of researchers that made the discovery was headed by Dr. Jon Seligman of the Israel Antiquities Authority and Professor Richard Freund of the University of Hartford. It returned with conclusive results that the ruins had been found.

"We identified large parts of it underground and possible remnants of ritual baths," they said. "We felt tremendous excitement when the radar located signs of possible remains of the synagogue.

"We hope the planned archaeological dig at the site uncovers remains we can study and that we will be allowed to present them to the wider public. It's important that the place become a memorial site for the magnificent Jewish community in Vilnius that was destroyed."

Dr. Seligman and Professor Freund hope the digging will be done by archeologists, students,

and volunteers from Lithuania, Israel, and Jewish communities worldwide to build an affinity between the place and the Lithuanian people.

"The goal is to ensure that the Jewish heritage of Vilnius is understood as an important and inseparable part of the Lithuanian and Jewish heritage. It's important that the site be preserved forever, for the benefit of everyone who arrives there in the future," they said.