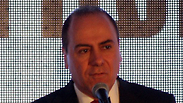 Silvan Shalom
Photo: Roi Idan
The Knesset's Immigration and Absorption Committee and Internal Affairs Committee held a discussion earlier this week on allowing the immigration for the remainder of Ethiopia's Jews.

Representatives of government ministries, social activists, and Israelis whose relatives remain in Ethiopia, participated in the discussion.


Chen Asemamo has been waiting 15 years for her grandmother to also be permitted to move to Israel and join the family, which arrived nearly in its entirety in the 1990s. "Every time they tell her 'soon, soon', that's the Ministry of Immigration and Absorption's code," she said.

"My grandmother has six children and more than 30 grandchildren here, and she was simply left alone in Ethiopia. I do not understand how it could happen that we devote our lives to this country and this is the situation we have to deal with. The answer is always, 'we'll take care of it later'."

Among those present was former Supreme Court president Meir Shamgar, who serves as the president of the Public Council for Ethiopian Jews. Shamgar and activists claimed they had presented Interior Minister Silvan Shalom with lists of 7,500-9,000 people who were left in Ethiopia and whose requests for immigration have been denied.

Two years ago, then-internal minister Gideon Sa'ar formed a committee to discuss the cases of the thousands of Jews whose immigration requests were declined, following a buildup of requests by Ethiopian Israelis to allow their relatives to join them.

Six thousand families living in Israel contacted the committee, but after a year it became clear that it had not approved even one immigration visa for any relatives. About a year ago, Sa'ar asked to expand the mandate given to the committee and extend the length of its activity, but last year it again approved no cases brought before it.

In Monday's discussion, Minister Shalom said he would update the Knesset about the possibility of a government resolution to allow thousands of Jews from Ethiopia to immigrate. Shalom declared that he supports immigration by the remainder of Ethiopia's Jews and relatives of soldiers serving in the IDF, but made no promises because of opposition from other government ministries.

Rabbi Elmo Yefet said at the discussion that his relatives have been waiting in Ethiopia for 20 years. "They shut the door on us for 20 years," he said. "It's racism. There needs to be an investigative committee in the Interior Ministry. There was someone there who fought the court to prevent them from immigrating."

Shalom said that the committee recently approved immigration of 300 Ethiopians: "My desire to bring the Jews of Ethiopia is very high. That requires both the Finance Ministry and the Immigration and Absorption Ministry, but first and foremost the prime minister. Unfortunately, and I said this in the internal meetings as well, the three aforementioned ministries have not exactly loved the idea over the years.

"The Finance Ministry because of financial costs, the Interior Ministry because of the need for registrations and examinations, and the Immigration Ministry because of the requirement of staying in touch with them for a long time. And I don't want to say there are additional reasons."

Regarding the numbers claimed by Shamgar and activists, Shalom said: "Of course 6,000-7,000 people is a number that Israel can not only contain, but must contain."

MK Avraham Naguis, chairman of the Knesset Immigration Committee, said that despite government decisions over the past decade, "our brothers have remained there. Children were separated from their parents and brothers from their sisters. The families are in harsh conditions in Ethiopia and have no assistance. We demand that the Israeli government make a decision to allow everyone to immigrate immediately."

Shamgar concluded that "the time has come to comprehensively solve the problem of the remainder that is concentrated in Gondar and Addis Ababa."

On the committee, he said: "It didn't do a thing. No one immigrated to Israel thanks to the committee. We have precise lists and we know that every one of these people is a Jew who prays every day."