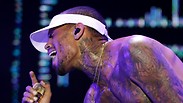 Chris Brown at Live Park in Rishon LeZion
Photo: Yaron Brenner
More than ten thousand youths gathered Monday night at Live Park in Rishon LeZion to see Chris Brown, one of the most popular rappers in the world.
Brown, 26, gave the audience a show full of energy, and played many of his big hits including "Turn Up the Music", "Yeah 3x", as well as several cover versions, among others, of Michael Jackson. Sometimes the brightly lit stage was transformed into a New York rap club, with the appearance of more than a dozen dancers.
Chris Brown performing at Live Park in Rishon LeZion ( )
The singer gave a long show during which he descended into the crowd and even brought onstage a Cleveland basketball player he's a fan of, so that he could also enjoy the fans incessant screams.
A slightly less desirable guest onstage was a man who managed to break through, but he was caught by security guards before he could reach Brown and was removed from the site.
Brown recently returned to full activity after several years of silence following a violent incident in which he hit his ex-girlfriend, the singer Rihanna. But without any connection to that incident, of course, Brown thrilled the audience much more than his ex-girlfriend, who disappointed the masses in Hayarkon Park a year ago.
Israel's intense heat had its effect on Brown, who took off his shirt during the second song and bared his tattooed body to the audience's applause.
And despite the heat, he continued to dance and perform his songs in between which he called out the audience: "Where are my girls?" and "Hello Tel Aviv." The crowd responded with cries, signs and especially thousands of cell phones waving in the air which lit up the park.
A good word must also be said about the other group in the lineup, the hip-hop duo Krept and Konan.
Together with them and of course with Brown, the evening was one of the most refreshing ones for the young crowd in the summer of 2015.