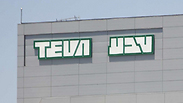 Teva factory in Jerusalem
Photo: AFP
It happened 68 years ago in a small apartment in Jerusalem's Gan Rechavia neighborhood, where an anonymous company manufactured medications. The company's name was Teva.

Two of its machines were secretly transferred to this apartment one night from a small factory in the Bayit VeGan neighborhood. It was my parents' apartment. Arthur, my late father, was one of the company's founders. It was worth several hundred thousand liras at the time, and its annual profit totaled several tens of thousand liras.

Drug Money

Pharmaceutical company shatters previous record of largest acquisition by an Israeli company, says move establishes 'strong foundation for sustainable growth.'

Every time Teva is involved in a major deal, like the latest acquisition of Dublin-based Allergan PLC's generic pharmaceuticals business, I feel the need to write about it from my personal angle. I am certain that my father never imagined that the small company, which produced its medications at our home during the siege of Jerusalem, would go on to become the world's largest generic drug manufacturer after purchasing another company for the huge sum of $40.5 billion.

Those days, my father received an offer to buy Teva shares in order to infuse money into its depleted coffer and help the company continue its production. Father, who was a complete "yekke," said: "I work for a salary. I'm not a businessman. I'm willing to lend the company money, but I won't buy shares." And that's what he did.

Had my father bought the shares he was offered at the time, the company's legendary chairman Eli Hurvitz told me a few years before he died, my father would have been a billionaire – and so would I probably.

In order to understand the significance of the acquisition announced by Teva on Monday, here are a few comparisons: $40.5 billion roughly equal NIS 155 billion (about half of the State of Israel's budget). Without Israel's debts pay-off, we are talking about half of the state budget for an entire year. This sum is almost three times Israel's huge defense budget, two times all the National Insurance allowances and seven times the health budget, Teva's field. This amount is also higher than the entire budget of quite a few countries, including Albania and Montenegro, and definitely many countries in Africa.

Teva is not only the largest Israeli company, it is also the most successful Israeli company which has made the highest amount of money with an excellent team of managers and workers which is hard to find in Israel.

In the past few years, Teva has purchased some of the world's largest and leading companies in the field of generic drugs and has also led the research and development of one of the most important medications in the world, Copaxone, an immunomodulator drug which the company is about to lose its exclusivity on.

There is no doubt that Teva is a great source of pride for the State of Israel, and for my family as well in a certain way.