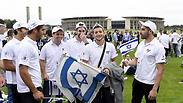 Seven decades after Adolf Hitler sought to stop Jews from competing in the 1936 Olympics in Berlin, more than 2,500 Jewish competitors will take part in the 14th European Maccabiah Games from Wednesday at the same Olympic Stadium.

Germany, home to the world's fast-growing Jewish population, is full of pride that the country responsible for the Holocaust in which 6 million Jews were killed will host the 10-day "Jewish Olympics", with participants from 36 nations in 19 disciplines from athletics to basketball, soccer and squash.

"I think it's great that the Jewish community in Germany is growing and Jewish life has become so vibrant here again," Heiko Maas, Germany's justice minister, told Reuters ahead of the opening ceremony for the Games that will be held in the Olympic Stadium and sports complex and run to August 5.

Video: Reuters (צילום: רויטרס)

"It's not something we could possibly have ever hoped for after World War Two and the Holocaust. I see this as a stroke of good fortune and gift for our country that we didn't deserve," added Maas, an amateur triathlete himself who will have honorary oversight on behalf of the government for that competition.

The European Maccabiah Games are the European championships for Jewish athletes held every four years in different cities, two years after the quadrennial Maccabiah Games in Israel.

The Maccabiah Games were established in 1929 in Prague as Jews wanted an alternative competition free of discrimination and anti-Jewish sentiment. The last Games were in 2011 in Vienna. Participants need at least one Jewish parent or grandparent.

Related stories:

It was a controversial decision to award the Games to Germany, with younger members of the movement prevailing against older members who opposed it, Alon Meyer, president of Maccabiah Germany, said.

Also haunting Germany are memories of the 11 members of the Israeli Olympic delegation taken hostage and later killed at the 1972 Olympics in Munich. Anti-Semitism sometimes still flares in Germany today, often linked to Israel's Gaza conflict.
'Signal of trust'
"To those who say this is not the right place to hold these Games, I say, to the contrary, this is exactly where they should be held," World Jewish Congress President Ronald Lauder told Reuters. "To celebrate the Jewish Maccabiah Games in Hitler's Olympic Stadium represents a triumph of good over evil."
More than half a million Jews lived in Germany with one of the world's most vibrant Jewish communities. But after the Nazis took power in 1933, most fled or were killed in death camps and the number in Germany was just 30,000 by the end of the war.
The Jewish population in Germany has revived since the end of the Cold War and there are now about 250,000 - which Chancellor Angela Merkel has called a "miracle".
"It's a signal of the trust Germany and Berlin have won back among Jews across Europe and beyond," Oren Osterer, head of the organization committee, told Reuters about the Games.
After dropping to 7,000 in 1945, there are 45,000 Jews in Berlin today - many arriving from Eastern Europe, Israel, Australia, France and the United States - attracted by the capital's tolerance, low cost of living and creative arts scene.
A subtle illustration of the unencumbered acceptance of one of the world's biggest Jewish events is the fact that humorous adverts, using some Yiddish terms that all Berliners understand, have been on billboards around town.
"Die ganze Mischpoke ist am Start" (the whole gang's here), reads one popular advert, "Meschugge (crazy) in Berlin" and "Gesucht wird die schnellste Ische Europas" (Looking for the fastest chick in Europe).
"It's fantastic to see the changes," said Rainer Kampling, a theology professor at Berlin's Free University, noting that once Jews only felt safe in Germany "mit gepacktem Koffer" - as long as they had suitcases packed and ready to flee.
"That the Maccabiah Games will be in Hitler's stadium is truly sensational."