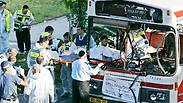 Jerusalem bombing
Photo: AP
The US government may weigh in on whether the Palestine Liberation Organization and Palestinian Authority must post a multimillion-dollar bond, which they have resisted doing, while the groups appeal a jury's finding that they supported terrorist attacks in Israel.

The US Department of Justice disclosed its potential interest in the case in a letter filed Monday in Manhattan federal court, six months after 10 American families won a $655 million verdict against the PLO and Palestinian Authority.

If the Justice Department filed a so-called statement of interest, it would mark the US government's first formal role in the diplomatically sensitive lawsuit, which was filed in 2004.

The Justice Department said it would decide by August 10. A spokeswoman declined to comment.

On Tuesday, lawyers for the families urged a federal judge to add $165 million in pre-judgment interest to what they won at trial. The families had won $218.5 million of damages, a sum automatically tripled under a 1992 US anti-terrorism law to $655.5 million.

Defense lawyers said adding the requested interest would, after tripling, boost the total award to $1.15 billion.

"This could be the end of the Palestinian Authority," Mitchell Berger, its lawyer, said in court. "And that's why we're here to argue over the judgment."

They have also argued that any judgment should be stayed pending appeal with no requirement to post a bond. The families have requested that the defendants be required to deposit $30 million per month with the court.

US District Judge George Daniels did not rule, but signaled he would not impose interest on the award but may require a bond pending appeal.

"There needs to be some meaningful demonstration that the defendant is ready and willing to pay the judgment," Daniels said.

Jurors in February found the PLO and Palestinian Authority liable over six shootings and bombings between 2002 and 2004 in the Jerusalem area, which have been attributed to the al-Aqsa Martyrs Brigades and Hamas.

Those attacks killed 33 people, including several US citizens, and injured more than 450.

The verdict added a new dimension to the long-running Middle East conflict.