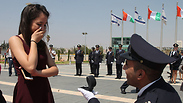 Marraige proposal at Knesset plaza
Photo: Knesset spokesperson
The Knesset ceremony was already prepared in honor of His Excellency Guillaume Soro, President of the the Ivory Coast's National Assembly. The red carpet was rolled out, and the honor guards in their special uniforms were ready.

This décor is exactly what Guy Gozland, a Knesset security guard, wanted as the background for his marriage proposal to his girlfriend Bat-El. About a half hour before the arrival of the distinguished entourage from the Ivory Coast and after Guy received special approval from Knesset officer Yossi Grif, Bat-El was brought to the Knesset plaza by Guy's commander on the pretext of "come and see how a Knesset honor guard ceremony is prepared."

First time ever marraige proposal at Knesset plaza (צילום: ערוץ הכנסת)

When Bat-El arrived at the red carpet, the guards stood at attention and Guy, all excited, came out from the ranks of the guards, approached his girlfriend, kneeled on the red carpet in the Knesset plaza and proposed to her.

Bat-El, shocked, said "yes" of course.

Immediately afterwards the Police Band played "Hava Nagila" in their honor and Knesset Director-General Ronen Plot congratulated the happy couple, also in the name of the Speaker of the Knesset Yuli Edelstein. Plot said that this is the first marriage proposal that ever took place on the Knesset's red carpet.

After the proposal Guy and Bat-El went to celebrate the exciting event, and another guard replaced Guy at the reception for the Ivory Coast's President of the National Assembly.