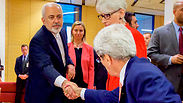 Zarif and Kerry (Photo: Reuters)
Photo: Reuters
Israel has not received all the details of the nuclear deal between Iran and the powers, National Security Advisor Yossi Cohen said Wednesday.

Cohen was speaking before the Knesset Foreign Affairs and Defense Committee. "In contrast to the promises we have heard, Israel has yet to receive all of the annexes of the Iran deal," he said.

This is not the first time in which members of Israel's defense establishment have complained that Israel was not given all of the agreement's details.

After a hearing in the US Senate on the Iran deal, an Israeli minister claimed that the fact that US Senators were not afraid to publicly question issues regarding the classified elements of the deal "showed that they wanted to sound the alarm on the bad deal."

Officials in Israel followed the hearing closely, and were shocked when classified portions of the deal were exposed, of which the US did not officially notify Israel.

One of the classified annexes revealed that Iran would collect its own samples from the Parchin site. Officials in Jerusalem were quick to label the annex as resounding proof of the deal's weak nature, that it was a "historic mistake," and that the Iranians had cheated the US and other world powers.

"Not only do the Iranians get 24 days to clean up their sites, but it seems that they don't even need to be worried, because they are the ones collecting the samples. That means they are alloweing the Iranians to fake the samples, and there is no way to discover violations. The meaning is that there won't be real inspections," a high ranking official said.

An Israeli analysis of the deal also noted that the deal does not prevent Iran from testing ballistic missiles.

"The time that has passed since the deal's signing continues to expose the amount of risk the West has taken upon itself, and its flexibility in making unprecedented concessions towards the tyrannical Iranian regime," Defense Minister Moshe Ya'alon said. "As time passes, we can see that the deal places the Western world at unprecedented and severe risk, in the face of an ambitious and unstoppable terror-based regime, which won't hesitate to act against, and from within, the same states with which it signed this bad agreement."