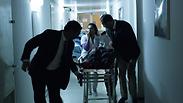 From Amos Gitai's new film "Rabin, the Last Day"
Photo: Alon Ron
The last day of prime minister Yitzhak Rabin's life is recreated in celebrated Israeli director Amos Gitai's upcoming film "Rabin, the Last Day", which will be screened in competition at the prestigious Venice Film Festival.
After the storm subsided around "Beyond the Fear", the documentary by the late Herz Frank and Maria Kravchenko, which follows the intimate relationship between Larisa Trembovler and the prisoner-for-life Yigal Amir, Amos Gitai puts the spotlight on Yitzhak Rabin – the prime minister who fell victim to Amir's despicable act on November 4, 1995.
Clip from Gitai's film
Twenty years later, the veteran filmmaker takes us back to the last moments of Rabin's life and the turmoil experienced by Israeli society and law enforcement authorities after the murder. Gitai's new film was accepted Wednesday to compete in the 72nd Venice Film Festival.
Gitai's project was filmed during the last year at various sites in Israel, from Tel Aviv's Rabin Square to the settlement of Kedumim in the West Bank, and it also incorporates archival footage.
The film features more than 70 actors, including old acquaintances of such as Liron Levo, Yael Abecassis and Tomer Russo, as well as Ischac Hiskiya, Pini Mitelman, Michael Warshaviak, Einat Weizman, Rotem Keinan, Yogev Yefet.
Yogev Yefet plays Yigal Amir in the film. Rabin himself appears in part through archival footage which Gitai inserted alongside scenes Gitai filmed with famous former soccer player Motaleh Spiegler, used as an extra playing the former prime minister.