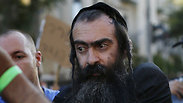 דקירה מצעד הגאווה ירושלים הדוקר ישי שליסל רגע התפיסה
"I came to kill in the name of the lord."

Yishai Shlissel's words to police over a decade ago resounded painfully throughout Jerusalem on Thursday afternoon. Shlissel and his knife wounded six at the city's gay pride parade, but it wasn't his first attempt at murder bred from hate.

Three Israelis became the Haredi Jew's victims during the pride parade of 2005. Shlissel was sentenced to 12 years for his crimes but was released one month ago after just 10 years. The good behavior that gained him his freedom didn't last long on the outside.

In a letter written two weeks before Friday's attack, Shlissel's intentions clearly remained murderous despite his years in prison. "It is incumbent upon every Jew to risk beatings and imprisonment... to come together to stop and reverse the blasphemy in the name of the almighty, may he be blessed," wrote Shlissel.

Those who gave their lives or risked bodily harm in the struggle against "blasphemy," would be "blessed," according to Shlissel's writing.

J'lem stabbing (צילום: אלי מנדלבאום)

He decried the participants of the march as "sinners" who "want to have a parade of abomination specifically in the city of the king in order to defile his temple and desecrate his holy name."

His writing echoed comments made to police after the 2005 attack - comments lacking in any form of remorse. "I will not allow this abomination in Israel," he stated.

A 16-year-old girl was critically wounded in Thursday's attack. A 26-year-old man was seriously wounded, while two men and two women were lightly wounded.

Shlissel had his remand extended in court on Friday morning. The suspect represented himself in the hearing and refused to cooperate, claiming the court was illegitimate. Attorney Asher Ohayon, who represented him in the past, made the announcement on Friday, and said Shlissel would continue to consult him outside of court regarding his legal issues.

While Israel's various pride parades are rarely attacked physically, Shlissel's hard-line beliefs can hardly be described as unique. Parade organizers have had to compromise on several issues over the years to avoid the potentially violent reactions of religious communities.

Members of the radical right-wing organization Lehava are regularly present in protest and mockery of the gay pride parade in Jerusalem.

Itamar Ben-Gvir, the leader of the organization, has played a central role in leading the so-called "beast parades" which follow the same route as the gay pride parade and features a train of goats and donkeys.

"At least these animals haven't sinned," Ben-Gvir once said.