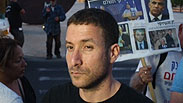 Zionist Union MK Itzik Shmuli
Photo: Motti Kimchi
A day after a stabbing attack at the gay pride parade in Jerusalem wounded six people, MK Itzik Shmuli (Zionist Union) on Friday announced that he was gay.

Shmuli wrote in a column published in Ynet's sister publication Yedioth Ahronoth that "it is no longer possible to remain silent."

"We can no longer remain silent because the knife is raised against the neck of the entire LGBT community, my community," wrote Shmuli. "It will not stop there. This is the time to fight the great darkness."

"This terrible criminal act that once again happened in "the city of God", is an attack on all of us," he continued. It attacks the right of all of us to be different, make our choices, accept differences and include the other."

Shmuli further wrote: "Israeli society is wounded, it has been stabbed in the stomach. It is losing its compassion for other people just because they are different. It is losing its acceptance of others. There is a direct connection between those hanging loudspeakers in front of a hostel for autistic children to keep them away to those people who stab people whose only desire is to live according to their conscience and desire."

"On behalf of what God did the despicable criminal charge at a crowd of marchers yesterday?" Shmuli continued. "In the name of what religion did he draw his knife and begin to stab once. And again. And once again," he wrote concerning the stabbing attack carried out by Yishai Schlissel, who had stabbed three marchers in a gay pride parade in 2005.

Shmuli was elected to the Knesset after becoming known as one of the leaders of the social protest in 2011, when he served as chairman of the student union.