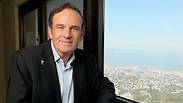 Photo: Elad Gershgoren
Photo: Elad Gershgoren
University leaders warn of Iran's educational overtake
Haifa University President Amos Shapira presented Netanyahu with data that shows the Iranians were investing more in higher education than Israel; now, following the decision to cut NIS 263 million from higher education, university leaders decided to fight back; 'After all, Iran's bomb is not built by the farmers working in the field,' Shapira warns.
Last week, shortly after it was reported that the state budget for the next two years will include cutbacks of NIS 263 million from the higher education budget, the head of the Association of University Heads (VERA) rushed to send an urgent letter to Prime Minister Benjamin Netanyahu, Finance Minister Moshe Kahlon, and Education Minister Naftali Bennett.
The letter left no room for misunderstandings. The heads of the universities were not trying to be circumspect or polite: Their words were filled with rage and anxiety, and they put into question their ability to continue operating under these cuts.
"If it is approved, these would be the highest cuts to higher education over the past decade, and the consequences of this decision would be very destructive," they wrote.
"We are concerned we would not be able to open the next academic school year if the planned cuts do indeed move ahead. The State of Israel, with this decision, is hurting its most important resource – its human assets – as well as the future of the Israeli economy, its development and prosperity. It does so in a time many countries invest enormous sums in higher education because they recognize how important universities are to financial growth."
Amos Shapira, the President of Haifa University and one of the signatories, claims that Israelis are not aware of the ramifications these cuts would have.
"We're afraid of the Iranian bomb, but if the State of Israel doesn't come to its senses, and continues cutting funds to higher education and research, while the Israeli 'brain drain' continues - Iran will win the race," he asserts.
"This is an arms race for all intents and purposes, except the weapons here are not missiles, but the human brain. Iran must not have the strategic advantage over Israel in research. There are quite a few measures that show that the qualitative gap is getting smaller every year. After all, Iran's bomb is not built by the farmers working in the field. This is a red line, and it must not be allowed to happen. That is why we joined forces, all the heads of academia, because otherwise the damage to the State of Israel will be unavoidable."
Taking advantage of the sea
This is the first interview he gives since becoming the president of Haifa University three years ago, "and the reason I am giving this interview is because I am very concerned," he says. "I'm concerned with the state of higher education in light of the expected cuts, and particularly with the state of Haifa University, which is located in the north. The State of Israel neglects the periphery more."
He says he has been aware of the existing problems for a long time. "On the eve of 2009 elections," he says, "when I was the president of the Israeli Friends of Tel Aviv University, I organized a big conference on higher education, attended by Benjamin Netanyahu and Tzipi Livni. Among other things, I talked about the connection between education and defense, and presented a comparison between higher education in Iran and in Israel. It turns out that in 1996, the national investment on higher education was 0.9 percent of the GNP, and in Iran it was 0.1 percent. In 2006, the investment in Iran and in Israel was the same, and by 2009, Iran had surpassed Israel. The most recent data I have, from 2012, shows that in Israel, that investment went down to 0.7 percent, while in Iran it increased to 1.4 percent.
"Israel got to where it did thanks to its human assets, its research and development. Iran understood that well, and is doing the same thing. Compared to research in the world, Israel is on the decline, while Iran is in a constant state of advancement."
What did Netanyahu and Livni say in response to the data you presented?
"They promised that if they were elected, the numbers would change."
Which didn't happen.
"On the contrary, look at the cuts."
So what you're saying now is, 'Another doctor of chemistry, one less F-35 plane'?
"No one intelligent would say that."
Why not? Like the Locker Committee report, you can say that.
"There is no methodology that can determine what is more important - an F-35 squadron, or a classroom. What is clear is that these processes need to be done in cooperation. I got to meet with senior IDF officers, and I was impressed with their genuine willingness (to cooperate) and their understanding of the broader needs the country has. I believe they are our partners in the war over the higher education budget as well. And I'm not just using the word 'war'. This is a war coming from deep concern to the future of the State of Israel.
"According to the Central Bureau of Statistics, Israel is losing ten percent of its researchers to other countries. There are fields like math where it's 20 percent, or computer sciences, where it's 18 percent. We invest $1 million in a student until he gets his PhD, and other countries get to enjoy the fruits of that investment."
This happens all over the world. Students move from country to country, and in any case you don't want to keep all of them.
"The problem is with those I do want. For example, I have a researcher who is in Germany and wants to come back. But I need to raise $1 million to set up a lab for him so he could continue his research. So I'm running around all over the world looking for donations. Over the past three years, the donations received by the university increased from $18 million to $27 million."
Which always happens everywhere. All of the leading universities in the world have plaques on every wall with names of donors.
"That's true. But abroad, universities are funded on a regular basis. Here, we don't have the budget even for that. An underwater exploration robot to research the sea, that can go four kilometers deep, costs $4 million. This has to be part of the regular budget the university gets."
There are those who claim that some of the budgetary problems in higher education are the result of bad management: High salaries, high pensions and cliques that promote the less talented people.
"I agree with examining a system's bottom line as well. I've been in this job for three years and I've been dealing with the question of how to best use the resources at my disposal on a daily basis. Even if there are things that could be improved, and every organization has things that could be improved, this is not the problem."
Shapira is proud of the fact that over the past three years, Haifa University has turned into a leading institute in sea research.
"A field that has enormous strategic consequences," he says. "We're dealing with aspects of energy, with development of geological models. It doesn't make sense for Israel to be a natural gas power, but depend on foreign technology. For example, we developed a master's degree program that deals with marine technologies, something that did not exist in Israel so far. And we are also involved in research that deals with shallow-water gas discovery.
"Another issue we are dealing with is artificial islands. I'm saying that if, heavens forbid, a war breaks out tomorrow similar to the Yom Kippur War, the entire country will be in one giant traffic jam, and the army would not be able to move its forces from one area to another. Artificial islands are likely the only solution in a country like ours to ease traffic in central Israel. For example - the airport. I was the CEO of El Al, and I'm telling you Ben-Gurion Airport would not be able to handle such a situation. You could also put power plants and desalination facilities on such islands. And all of that while clearing valuable land in central Israel."
Who will fund this thing? And what about the ecological implications the islands would have?
"This issue is still in its early days, so it's too soon to talk about funding or ecological solutions. I'm trying to explain the strategic advantages higher education presents. And that's not all. The sea is an untapped source of food. It is estimated that over the next 40 years, mankind will consume as much food as in the past 1,000 years."
Mankind also knows how to multiply the yield of each farmed dunam several times over.
"And still, based on research data, while the increase in production is at the rate of one percent a year, the rate of consumption is at two percent. Aquafarming could be the answer to that."