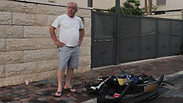 Photo: Zahar Shahar
Photo: Zahar Shahar
An explosion rocked Moran Street in Kiryat Yam early Sunday morning when Mayor David Even Zur's vehicle went up in flames, allegedly caused by an improvised explosive device placed under the driver's seat of the car.

Kiryat Yam's municipality claimed the event was nothing less than a hate crime, motivated by Even Zur's Facebook post on Friday condemning the stabbing attack at Jerusalem's gay pride parade by a Haredi individual and the arson attack in the West Bank that killed a Palestinian baby, also allegedly perpetrated by Jews.

Car on fire

The explosion occurred at approximately 3am and set the vehicle on fire. Firefighters were dispatched to the scene to extinguish the flames and said that claims of explosions preceding the fire were under investigation.

Local police also launched an investigation into the incident to test theories that the explosion was intentionally aimed at harming the mayor, and to find the perpetrator.

Even Zur was elected mayor in 2013 after running unopposed and receiving 64.3 percent of the vote.