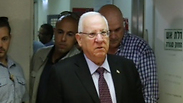 Rivlin visiting the victims (Photo: Moti Kimchi)
Police opened an investigation Sunday into death threats against President Reuven Rivlin, who has been suffering severe backlash on social media for a speech he made condemning two recent attacks allegedly perpetrated by Jews.

The president's remarks put him in deep water with many people, who took to social media to express their anger at his comments.

A photoshopped image appeared on social media showing Rivlin wearing a keffiyeh, alongside a photo with the caption "You are not my President."

Rivlin's Facebook page has since become a battleground between his detractors and supporters.



As a result of the complaint filed by the president's office with the Jerusalem police, the police's national cyber unit in Lahav 443 launched an investigation into the threats.

Rivlin received more than 11,000 likes on a status he posted Saturday night in which he wrote, "Flames are spreading in our land, flames of violence, flames of hatred, flames of false, distorted and twisted beliefs." He continued to say, "We must put out the flames, the incitement, before they destroy us all."

Not everyone agreed with the statement, "You are a terrorist in the government," one user posted in a comment. He later added, "Go live in Gaza." Another poster asserted that, "You are not my president, you are an enemy of Judaism!!!"

Among other comments were: "You are a traitor to your people"; "I wish all of the world's suffering on you"; "Wow Ahmed Rivlin, you make me sick!!"; "You have become a total Arab, huh?"

In the face of the harsh comments, there were many posters who supported Rivlin's message. "I'm proud that you are my president, and ashamed to read these incitements against you," one poster commented.

During Saturday's rally in Jerusalem Rivlin said: "We cannot extinguish the fire through denial. In order to truly extinguish the flames we need to be much more focused and assertive. We must be thorough and clear, starting with the education system, to law enforcement, and all the way up to the leadership of the state, and the nation. We must choke the fire, the incitement, before it catches us."

Rivlin said he visited slain Palestinian baby Ali Dawabsheh's four-year-old brother, hospitalized at Tel HaShomer with burns on 60 percent of his body, and felt "ashamed."

"I was horrified by the power of hate. I was embarrassed that a nation which knew the murders of Shalhevet Pass, the Fogel family, Adele Biton, Eyal, Gil-ad, Naftali, Mohammed Abu Khdeir, there are still those whose hands do not hesitate to light fire to the flesh of a baby, and to increase the hatred and terror."