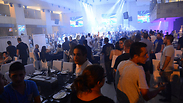 חתונה ללא אורחים קבל הגיע לאחר פוסט פייסבוק אולם הרמוניה בגן צומת כנות זוג מתחתן
Photo: Avi Roccah
A Facebook post helped save an Israeli couple's wedding day on Sunday, drawing up to 2,000 people to the virtually empty event space.
Annette and Lior Solomon were getting married at the Harmonia Bagan event space. Apparently, some relatives assumed the event had been cancelled because the bride's father had passed away.

"The bride," read the post, "lost both her parents in the last two years. Her father passed away a month ago, and now there is no one there except for a few relatives. You don't need a gift, you don't need money. Just come fill the auditorium, fulfill a mitzvah, and make a bride and groom happy."
The response was enthusiastic, with around a thousand or even two thousand people arriving at the event space.
Rivka, a relative of the groom, said: "What happened was that I arrived at the wedding and saw that it was almost ten at night and there were no people. I thought I had gone to the wrong place. There were only ten people. I saw my uncle and asked, 'Where is everyone?' He told me, 'they didn't come.' And then I told myself that I would start posting. So it passed through word of mouth and more than two thousand people came. These are the Israeli people at their best. The groom and bride cried. Understand, at the wedding canopy they were alone. After the story was published, people came to make them happy."
One guest, Dana Yaakovian, said: "I live in Yavne and someone from Yavne shared the post on Facebook and we decided to come. I arrived with my boyfriend, Liad Hajaj, to the event space. We saw the post at 10:30pm and arrived after half an hour. There were already hundreds of people when we arrived, lots of music and people. People didn't stop arriving until midnight and made the groom and bride happy."