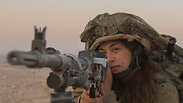 The Lions of Jordan (Photo: IDF Spokesperson)
Israel's eastern border just became safer when the Lions of Jordan battalion, which for the first time has female fighters training and fighting alongside men, took over security duties in the Jordan Valley.

The lionesses finished their combat training a few weeks ago and are now ready to take over a sector, much like the first co-ed battalion in the IDF, Caracal, which is responsible for securing the Egyptian border.

A third co-ed battalion will be formed in the coming year and will take over the Arava sector on Israel's border with Jordan. It will likely be named Tamar.

(Video: IDF Spokesman( (צילום: חטיבת דובר צה"ל, עריכה: בן שפייר)

Meanwhile, in the Jordan Valley, the new female fighters replaced the armored reserve battalion currently stationed there, whose members came under fire at the Beka'ot checkpoint only a month ago by a terrorist who shot at them from close range - and killed him.

The new battalion, which was formed to replace the Kfir Brigade's Lavi Battalion that was dispersed, will be part of the 417th Jordan Valley Brigade. New recruits will undergo boot camp and advanced training at the Nahal Brigade's training base near Arad.

The battalion will eventually have a 50-50 ratio between men and women, like Caracal. Meanwhile, however, there is currently a majority of female fighter in light of a 40 percent increase in motivation of young women to serve as fighters.

"The battalion already includes female commanders and officers who came to us from Caracal," The Lions of Jordan's first battalion commander, Lt.-Col. Shai Penso told Ynet.

Penso, who comes from the Nahal Brigade, said the female fighters "are more motivated to prove themselves than male fighters, and they have better aim at the firing range or in exercises for the simple reason that they have higher concentration and better discipline."




According to the battalion commander, despite the relative quiet in the sector, the battalion faces threats from Palestinian cities Tubas and Tayasir as well as hostile cities like Nablus and Jenin. However, when it comes to training, the battalion is also preparing for other scenarios, like "the increase of radical groups coming to us from the border with Jordan." However, Penso said, "this still not on the horizon because of the strength of the Jordanian army."

The first company commander in the battalion, Major Aviya Hilel, is a Golani alumnus. "There's no difference between a male and female fighter. There are female fighters here that if you put them in the Paratroopers or Golani, you wouldn't know the difference. We have female fighters who were better than Kfir Brigade fighters in a fitness competition," he said.

Two of Aviya's soldiers are two lone soldiers who made aliyah from France, one man and one woman.

Corporal Lea Darmon is one of the few female soldiers in the IDF who fire a MAG machine gun. "From early on I wanted to be a fighter, to protect my country and contribute with a meaningful service. My parents in Paris are afraid, but I'm in contact with them and I'm not afraid," she says.

Lea fell in love with the IDF's mythological MAG machine gun in her very first days in the army, and asked her commanders for it. "Since, I've been attached to the MAG and it's always on me."

Her battalion friend, Corporal Eli Mimon who made aliyah from Marseille, said "I was offered to go to the Paratroopers but I refused because I wanted something special. I made aliyah out of Zionism, and it took me four years to get citizenship, that's why I only joined at the age of 21. We have female fighters who are better than male fighters. Lea is an insanely good shot, and everyone's counting on her."