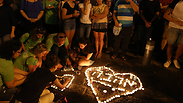 An impromptu memorial for Shira in Jerusalem
Photo: Amit Shabi
Shira Banki, 16, who was critically wounded in a stabbing attack at the Jerusalem Pride Parade last week and succumbed to her wounds on Sunday, was laid to rest on Monday in Kibbutz Nahshon.

"Shir-Shironet, the intelligent, beautiful, pleasant, curious, musical girl. The girl who managed to even go through puberty with grace, and bloomed like a beautiful flower, when the last year was the height of everything. The height of success at school, of social mobility, of a healthy interest in boys, the height of her relationship with her siblings," Shira's parents, Uri and Mika, said in their eulogy.

"Many times we received bundles of compliments from those who saw and heard Shira. Not a week went by without a compliment from someone about our first born, and we would return from every teacher-parent conference with two kilos worth of pleasure.

"And all of this innocence, beauty, happiness and goodness fell on the altar of hatred, wretchedness, cruelty, negligence and stupidity," the parents continued.

They said neither they nor Shira were part of the LGBT community, "but we support the right of everyone to maintain their way of life and customs. And the message of love and tolerance, with which Shira went to the parade, she got from us as well."

The parents stressed they "have to conflict with people with kippahs or beards, and we know how many honest and emotional prayers were said in the public and behind closed doors for her recovery."

"Our fight," they continued, "is with the lack of tolerance, the hatred, and the sanctifying one's goals on the expense of other people's pain."

Thousands of people attended Banki's funeral, most of them strangers who came to show their support to the family. Among those in attendance was retired judge Dorit Beinisch, who is a family friend, as well as Kulanu MK Roy Folkman and former MK Dov Lipman.

"There are no words to describe this disaster," Beinisch said. "Not just for the family, but for all of us. She joined this parade in order to express her love of the other."

Beinisch said this was "not the moment to talk about what the government should do, but it should certainly do something."

The family asked Shira's former teacher, Tamir Nir, to host the ceremony. Nir, who currently serves as Jerusalem's deputy mayor, is a family friend and knew Shira when she was a child.

Liat Ben-Shabat, who went to school with Shira, said: "We're feeling awful. It's no longer safe to be who you are and to be accepted, to express your opinions and be a part of a protest in which people express the desire to get something. Shira was murdered. As a religious girl, it was important to me to come here. To come here was to say 'this is not what our Torah commands.'"

Tomer, who knew Shira, said she was "always smiling. She had this kind of joy of life. A child is gone only because she supported a sector that is discriminated against. She turned into the symbol of the fight against homophobia. It's wrong for the blame to be put on the right, religious and haredi. This was an act done by one hateful person."