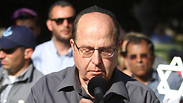 Photo: Ido Erez
Photo: Ido Erez
Mordechai Meyer (18), a resident of Ma'ale Admumim was arrested Tuesday in the framework of a six month administrative detention order, which was signed by Defense Minister Moshe Ya'alon.

The order provides the right to detain Meyer for six months without trial. Meyer was placed under regular house arrest on Monday, and issued bans which prevent him from travelling to certain areas, after having been detained for a lengthy period of time due to his alleged involvement in a group which set fire to the church of the Multiplication near Tiberias. Concurrently, another suspect named Aviatar Slonim, was arrested for participation in an organized violent radical Jewish group. Slonim was banned from entering the West Bank and Jerusalem.

Gedalia and Sarah Meyer speak to reporters (Video: Avi Chai) (צילום : אבי חי )

"Minister Ya'alon signed the six month administrative detention order for the radical right wing activist Mordechi Meyer from Ma'ale Adumim, due to his participation in the violent actions and terror attacks which occurred recently, as a member of a Jewish terror group. The order was signed at the recommendation of the Shin Bet," the Defense Ministry said.

The Shin Bet presented intelligence information to the Attorney General Yehuda Weinstein on Tuesday, which alongside a recent Security Cabinet decision to "lower the threshold" by using administrative detention against Jews suspected of terror, allowed for the decision to be implemented. Weinstein authorized the Defense Minister to decide on placing persons of interest under administrative detention.

Meyer's parents, Gedalia and Sarah said: "We are United States citizens and our children grew up there, in a democracy, among loving people and all our family is there. We raised the kids to love nature and all living beings," said the mother, Sarah. "We had a good livelihood. We left everything due to our love for Israel, our children as well, and we are kind of shocked. They love people."

Gedaliah spoke of the night of detention: "We made aliyah from the United States to a democratic state. Our son was at home last week. They knocked on the door last night, showed a document stating that they were taking him to jail for six months without suspicion and without explanation. Suddenly. And now find ourselves with our son in jail and do not know anything. We thought there were courts here. Mordechai studied Torah, liked all living beings, lives outdoors in Samaria (West Bank). "He pointed out that "they had to arrest someone. According to what I know my son people believed in beauty, the idea of settling the land and the infusion of God into his life."

Honenu, a legal aid organization, which is representing the suspect, said in response: "The fact that the same youth received a house arrest order only two days ago and now is already being "upgraded" to administrative detention points towards a populist agenda within law enforcement. We firmly object to the use of administrative detention against Jews. The use of these draconian orders, circumvents the court system, and nullifies the courts role in the state."

Yuval Keidar, the Honenu lawyer representing Meyer said: "From the moment the news of the arrest I was glad that there were condemnations from all sides saying that this was a Shin Bet public relations operation sponsored by the Defense Minister. In this case, contrary to other acts, there is nothing there. Shin Bet feel vanquished. They questioned the suspect twice but found nothing. To come by way of force and to arrest someone without justice is indecent"