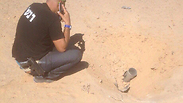 Photo: Archive/Eran Senkar
Photo: Eran Senkar
The Israeli Air Force struck a Hamas military post in the central Gaza Strip on Friday night, hours after a rocket fired from the enclave landed in Israeli territory north of Kissufim, just east of the Gaza Strip.
Hamas said one of its facilities was hit and two of its members lightly hurt.
The projectile fired from Gaza earlier in the day landed in an open area less than one kilometer from the Gaza border fence and no damage or injuries were reported.
At least one additional rocket fell inside Gazan territory.
On Thursday night, three rockets were fired at Israel, but exploded inside Gaza adjacent to the border fence in the central and northern strip.
An hour before the rocket fire, Gaza Division Commander Brigadier-general Itay Virov met with 52 lone soldiers at Kibbutz Magen. Virov told the soldiers that a year after Operation Protective Edge, the southern front is relatively quiet, even though the IDF deals with occasional attempts by elements within the Gaza Strip to disturb the peace through sporadic rocket fire.
Code red sirens were not triggered by the launch and IDF forces arrived in the area to try to find the mortar.
Residents said they heard neither the rocket or code red sirens.
This is a developing story.