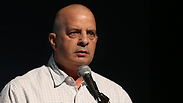 Yuval Diskin
Photo: Tzvika Tishler, Yedioth Ahronoth
Former Shin Bet chief Yuval DIskin on Friday criticized the government's handling of West Bank extremists in the wake of the Jewish terror attack in Duma.
"Alongside the State of Israel, a de facto State of Judea is being formed," Diskin wrote in a lengthy Facebook post warning of a potentially irreversible situation.
"In the State of Judea there are different standards, different value systems, different attitudes towards democracy, and there are two legal systems," he asserted. "In the State of Judea, law enforcement is shockingly weak towards Jews. In the State of Judea, anarchistic, anti-state, violent, and racist ideologies are forming over the years, and they are treated tolerantly by the Israeli legal and judicial system. "
According to the former security service chief, "the Hilltop Youth (hard-line, extremist settlers) are setting the tone within Religious Zionism. Anyone who thinks we are only talking about a few dozen of delusional youths is making a big mistake. In the State of Judea, there are many hundreds of youths supporting messianic and/or anarchistic, anti-state ideologies.
"Among these many hundreds are dozens who daily adopt different levels of violence or terrorism against Palestinian lives and property," wrote the ex-Shin Bet boss. "Among them are dozens who would be willing to unhesitatingly take part in violence and terrorism against their Jewish brothers when they see the value of "sacred land" as being put to the test. In certain scenarios, these numbers can be expected to increase significantly."
According to Diskin, the Shin Bet, the police, and the IDF are well aware of the figures, as have prime ministers through the ages, as well as various law enforcement agencies. "Even when I was head of the Shin Bet, I appeared at different Mechinot (pre-military educational programs) in Judea and Samaria and openly said that I thought Jewish terrorism was a cancer on the body of the nation," Diskin wrote.
But some in the Shin Bet are concerned, he claimed. "A number of employees in the Shin Bet's Jewish division, particularly those among them who wear kippas and lived in settlements, have been the target of harassment, boycotts, and denunciation by radical right-wing activists. One of the current senior employees in the Shin Bet, who is religious and lived in a settlement until recently, was afraid to serve as head of the Shin Bet department in charge of the Jewish division."
The government has always preferred to deal with other security threats rather than deal with administrative detention for Jewish terror operatives, Diskin argued. "It is also not politically beneficial when we have a government based on right-wing parties, and has a right-wing political lobby as well as a rabbinical lobby, which immediately rallies around those who were jailed or detained, and makes enormous efforts to free them."
Diskin warned of a far graver future. "The situation will only get worse and become more complicated," he wrote. "My conclusion is that we have to wait for it to be worse in order for it to perhaps get better. Will it be better? It depends only on us, because we have reached this situation without leadership and without a path."