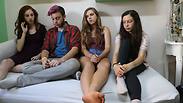 Photo: Alex Kolomoisky
Photo: Alex Kolomoisky
A single bed. A teenager's vanity. A pile of large earrings. A desk. A laptop. A fan. Red All Star shoes. A round gray carpet. A corkboard with family photos. Large high school notebooks. Indian feathers. Sandals. A red heart with a dark arrow shot through it, drawn in red and black markers on the window. An orange tiara made of plastic, with the name "Shira" and the date: November 1.

In three months, Shira Banki would have celebrated her 16th birthday. On Thursday last week, she was stabbed, and on Sunday she passed away. Her family donated her organs. Shira became a symbol for freedom, equality, secularism, human rights, faith, sacrifice, and struggle.

At the entrance to the building where the Banki family lives, at Beit HaKerem neighborhood in Jerusalem, there's a notice: "In memory of Shira Banki, who was murdered while fighting for the principles of her friends. May her soul be bound in the bundle of life."

But inside her room there is no sign of an ideological struggle. It is the summer of her 16th year, a teenage girl goes to the pride parade in the city with friends, even though she's not a part of the gay community. After the parade she was supposed to babysit the neighbor's children and then meet up with friends.

Shira is like everyone's daughter, except perhaps more accomplished. She loved the color turquoise the most (she has ten turquoise tank tops in her closet). She watched Game of Thrones and That '70s Show on TV. Her preferred reading was Sherlock Holmes, Harry Potter, Dune by Frank Herbert. She loved to prepare and eat sushi, spend hours sitting on a bench in the city with friends, go to parties. She was afraid of dogs, and loved singing (her favorite song was "In a Red Dress," sung by the Nahal troupe).

She was born in the Rassco neighborhood and spent her childhood in Ramat Beit HaKerem. She adores theater, and watched Macbeth two weeks ago. She had been playing the piano since the first grade, and just started learning a new piece by Rachmaninoff. She dreamed of going with friends to Greece next summer, join the army, become a lawyer and bring four children into the world.

In the summer, she liked to wear shorts, a tank top, flip-flops, big earrings and a purple-blue bag. Just recently she went to a screening of the Rocky Horror Picture Show at the Gat Cinema in Tel Aviv and dressed for the occasion: A black corset, black skirt and heels. After the movie, she and several friends jumped into the fountain at Rabin Square, and took pictures.
A bus pass as a keepsake
Romi, Noa, Didi and Daria are sitting on her bed. They are Shira's best friends. Though, Daria notes, "they are better friends of hers than me." And this distinction is important to them. Recently, their best friend was appropriated by the general public and all of a sudden, their private memories are taken away from them and were being redesigned. They say a lot of things have been said about her by those who didn't truly know her.

Now, the four of them are constantly in her house, frequenting her room, holding onto familiar things.

Mika, Shira's mother, is sitting with us. She asked to come in for a few minutes during the interview, to look after the young friends. The minutes go by and she stays, longing to hear the conversation about her daughter, smiling with them, laughing with me - it's as if for as long as the friends are still here, so is Shira.

I ask her friends to talk about her, but not the grandiose stories told about those who died.

"One time, Noa, me and my sister Yael decided we were making potato omelets," Daria begins. "We grated a lot of potatoes, added a lot of spices, and it didn't turn out good. We added a ton more spices and it still wasn't good. We cooked this filth and fried it with a lot of oil, and Shira came over and ate the entire thing."

"The first time I met Shira was on Yom Kippur in the 9th grade. Noa introduced us," Romi says. "She was a good friend of hers and thought we would get along. Yom Kippur was fun, we wandered around the neighborhood, talked and ate, Shira brought us chocolate."

"One time we were in my room - Romi, Shira and me," Noa says. "Shira was drinking water while we were pouring water from a bottle into glasses. It went 'gluck-gluck-gluck.' We were all giggling. When it got to the last gluck, she burst and spat out a lot of water on everyone. Afterwards the room was wet."

"Shira has a baking book and she set herself a challenge to finish the entire book by the end of the summer. To prepare a recipe or two every day, and we would eat it," Romi says. "We also picked what she would make. She did 60 of them."

"And there are 140 left," Didi adds.

How does it feel, to be here in her room without her?

Didi: "It helps. The day we got the news, last Sunday, we came to Noa's grandparents' house, 40 friends. We sat there and just told stories. From a situation in which we couldn't say anything, really couldn't talk, we suddenly could - and we got things off our chest. It feels good. That's how it feels now. I feel slightly more able to talk about it. I went into this room on Sunday and it was really hard to see all the things here."

You spent a lot of time here.

Noa: "On Friday, we'd come here to eat dinner with the family, go out, and come home late at night. We'd sleep, and Shira would get up for a piano lesson, come back, and we would still be sleeping. After that we'd eat and watch a movie with the family."

Romi: "This room is very much her. I feel like Shira is still here and that makes me happy. I like it here, it feels very natural. You see this bus pass?" She points at a bus pass over Shira's desk. "A year after we first met, we decided to celebrate it. We went to the mall, which is a terrible place to celebrate something, and we kept the bus passes. I have one at home too."
Like a bomb in the living room
Shira went to the Hebrew University Secondary School, commonly known as Leyada, one of the most prestigious schools in the country, and even there, among all of the most-accomplished, she excelled. She studied theater and biology and advanced math.

Was there anything she was bad at?

The friends have hard time coming up with something. "She was very very competitive." This is the most they could think of.

Shira turned into a national figure overnight. How do you feel about this?

Romi: "I'm trying to ignore it. She's ours, don't take her from us."

Noa: "It's turning her into someone else. She didn't go to the parade to become a symbol, she went because she supports it, she believes in human rights."

Didi: "People who don't know her say all sorts of things about her. I can understand if it comes from us, from people from her grade in school..."

Noa: "But it's also coming from politicians."

Daria: "This morning, Ayelet Shaked and Bennett were here."

Romi: "Shira wouldn't have liked it."

Didi: "The last thing she spoke about during the parade was how wrong it was that there were Likud activists there, that parties take advantage of it, because they don't really support it. Bibi sent a secret video ahead of the elections to the Israeli LGBT Center in Tel Aviv and told them 'We have an openly gay candidate in spot 32, vote for us so he gets in (to the Knesset).' It's infuriating, she would've been very mad. If she met Bennett, she'd yell at him."

Romi: "She would've asked him questions he wouldn't be able to answer."

Didi: "Politics made her very angry; she talked about it a lot. If she saw Bennett in her living room, she would've been mad that he came, because it's hypocritical. She came to the parade because she supports the LGBT community."

Romi: "To those who are confused - Shira was not part of the LGBT community."

This sentence was repeated several times, and it appears it was important to Shira's family and friends that people knew that.

Didi: "She believed in trust and honesty, that's the education she got. Maybe Naftali Bennett said things that were less problematic, but his number 9, Bezalel Smotrich, organized the anti-gay 'Beast Parade,' and that says a lot about him."

Noa: "It was very important to Shira for a person to be true to himself."

This warm feeling goes beyond the door to Shira's room. The house in Beit HaKerem does not feel like a mourner's house. The parents go from one guest to another, full of energy and life, their faces lit up, making it easier for those who come through their door. There is no heavy feeling. It is as if Shira's youth made even the mourning customs lighter.

The family is the salt of the earth, after it has been filtered: The father, Uri, was an officer in the Paratroopers in the reserves, and now practices law. The mother, Mika, is also a lawyer. Shira has three siblings: Tomer, 13; Ela, 9; and Adi, 4 and a half.

This is a home hit by tragedy with full force, as if a bomb fell in the middle of the living room, but the Banki family stopped the shrapnel.

On Thursday, their eldest daughter went to the pride parade, and never returned.

Romi: "I didn't want to go, I had my reasons. It's not that I'm against it."

Noa: "I couldn't go. We always set goals for ourselves, things we wanted to do, so we said we'd go to the parade together and I couldn't make it this year, and I regret that."

Didi: "We went - Daria and me and other friends."

Daria: "On Monday we went to the movie 'Pride,' screened as part of a project for teens. They screened it because of the pride parade. Shira and I helped organize the screening, and it was only obvious we'd go to the parade together."

This is at least the second time Shira went to the parade.

Didi: "Shira called and said they were on their way. We met at Independence Park. There were four of us. Three other friends joined us and we marched, seven people who are not really connected to each other. I was with my partner. I'm part of the community; I've been out of the closet since the 7th grade. On Keren Hayesod Street I saw people sitting at the bus stop and thought to myself whether they were part of the parade or just there."

Were you worried?

Didi: "A few minutes before that we saw Lehava activists and I remembered there was a real danger. I also get news alerts to my phone so one of the alerts that morning said the stabber from 2005 was released from prison. I thought about it that day. I had pink hair, baby blue makeup all over my face. I told my boyfriend that because I looked so provocative, I'd be stabbed for sure."

Were you near the attack?

Didi: "I was walking behind Shira, went past her, she went past me. All of a sudden I saw someone, his back, and only his hand. He just touched her. It looked like he was just giving her a tap on the back; I didn't see a knife - not before and not after - I thought he just touched her. And then I realized. She was the second to get stabbed, from my understanding. I saw someone else lying behind her so I guess she wasn't the first one. Panic erupted, yelling. My first instinct was to move aside, to get out of there, fearing more people would get hurt, fearing he will come back. I saw Shira trying to reach her back with her hand, as if she had a mosquito bite and she was trying to reach it. She tripped and fell. People came and tried to stop the bleeding. Someone checked if she was conscious. We touched her hair and told her everything was okay. They moved us aside and I was trying to understand which hospital she was taken to, so I could go there."

Daria: "I was in front of her. I didn't see everything from the beginning. There was a lot of shouting, we moved aside. There were people who pushed us aside straight away. We tried to find her parents' number, find out where she was taken in the ambulance. Police asked us to give our account."

Didi: "A lot of people called to make sure I was okay. My mother called. I told her to try and find Mika and tell her what happened. My partner told me the stabber bumped into his shoulder on his way to Shira. We went to Hadassah and found out she wasn't there, so we went to Shaare Zedek."

Romi: "Daria's sister called and said Shira was stabbed. I didn't understand what was happening, I was very confused. I was sure she was lightly wounded and that she was bandaged on the scene. When we got to Shaare Zedek, there was a lot of press and people who didn't know Shira."
A good kind of stubborn
The four of them are smart kids. Responsible, wise, but still kids. These kinds of things are not supposed to happen to someone at the age of 16, and if something bad does happen, it usually ends well. This is what happens in the movies, on TV, in books. This is what her friends thought when Shira was in the hospital in serious condition from Thursday to Sunday.

"You don't need to feel sorry for us, nor for Shira. She had an amazing life," Romi says.

"She put on makeup at the parade," Daria adds. "The last thing I told her was that she was beautiful."

"We had plans. We said we might go on a trip together. We planned on going, it didn't matter where," Noa says.

None of them mentions the killer. They prefer talking only about Shira.

Didi: "This year, our bond became really strong. We were studying theater together. One day, our civics class was canceled and everyone went outside. Shira and I went to the cafeteria, sat on a bench in the sun, during the winter. She told me a lot of stories about her family. I told myself, 'she's a lot more than what I thought she was.' I felt like we were going to be good friends."

Romi: "In the 10th grade, her friendship with each of us and other friends became stronger."

Noa: "She opened up more, changed. In primary school she was shy and in high school she developed, underwent a crazy change. She became more open, friendly, and joking."

Romi: "It's thanks to Mika. Yesterday we were talking, Noa, Mika and I, and I realized that a lot of qualities Mika has, Shira does too. Shira didn't sell herself short; she knew what she was worth. She was modest, but knew what she was worth. And I guess she suddenly figured it out."

The friends start talking about arguments they had with Shira. She was quite stubborn, stood her ground, "but only in a good way," they clarify, "it never affected our friendship."

Every 15 minutes someone comes in with food and drink. They are constantly fed, these children who are a part of the family. Some spent every day here over the past two years, coming over after school, staying for dinner.

In a phone call with Shira's homeroom teacher, Nadav Harubi, he recalls the moment he met her. "In our first meeting at the end of last August, shortly after Protective Edge, I told her, 'tell me someone about yourself that it is important to you that I know.' The first thing she said was, 'I'm a leftist.' It made me laugh. There are a few other leftist students, but no one chose to say it. Later she talked about her family, she was very close to her siblings, especially her two younger sisters. She was among the few students who would talk to me about politics. On the last week of school, we toured the Temple Mount. They asked me things, I said what I thought. I usually don't just say something for or against, but instead show it's more complex. It was important to her."

What kind of a person was she?

"She had values, she was friendly with everyone in class. One of the girls was sad because her uncle was in the hospital, so Shira came to me and told me, 'she's sad, go see how she's doing.' She was really attuned to what was happening around her, both on the political and personal level. She would never get into a fight, she would listen to you. And she had those expressions on her face that if you looked at her, you'd be amused by it.

"We volunteered as a class this year at a special education school in Jerusalem, working with children with particularly severe disabilities. We organized a Purim event, with different stations, and she, along with a friend, was the acting producer. She went through the stations, helped wherever needed. I don't remember I asked her to do this, but it was obvious to me and the class right from the start that she would. That she was responsible. It was the first time I saw her as a leader. Until that point, she was a critically-thinking girl, but quiet, and nice, and gets along with everyone. All of a sudden I saw she didn't lack the guts to lead. It was nice to see."

Back in Shira's room, I'm trying to bring the conversation with her friends to a close, but they won't let go.

Noa: "But there are things we haven't spoken about: The theater and cooking and piano and her family. It's very very important."

Does it bother you we haven't talked about it?

Noa: "There are a lot of different sides to her personality. Family is a very serious business for her."

Romi: "She put them first. Family time was important to them. Her parents are amazing."

Noa: "They make an effort; they care about their children very much. They care about us too."

Didi: "Her mother, Mika, was simply her friend."

Romi: "They were open with each other about everything. She told them everything and they told her everything. And if she hadn't had a serious conversation with one of her sisters in two days, she'd say she would make time to sit with her that day."

What are you going to do now?

Noa: "We can't see beyond this."

Romi: "Sitting here is nice. I'm trying to focus on the good things and not dwell in sadness."

Noa: "One of the things about Shira is the support she provided. We had an agreement - I'd get her closet in order and she'd get my life in order. Now we need to try to get our lives in order without her. We always knew we needed her, that our lives were better because of her and what she gave us. And especially now, we really need her here."