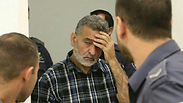 Hassan Khalil Hizran
Photo: Avi Mualem
A Swedish national of Palestinian-Lebanese descent suspected of passing intelligence to Hezbollah was indicted on three criminal counts on Sunday, including passing of information and contacting a foreign agent.
Hassan Khalil Hizran, 55, was arrested at Ben Gurion International Airport on July 21 on his way to Israel. Swedish authorities were updated about the arrest.
According to the indictment, Hizran joined Hezbollah in the summer of 2009 as an intelligence source. He was tasked with recruiting Israeli Arab assets with social ties to Jewish Israelis, army officials and government officials, which he refrained from doing despite pressure from his handlers.
He was also tasked with collecting any useful and relevant information about Israel, including places in which there are large concentrations of IDF troops, arms, tanks and military bases.
To that end he visited Israel several times, and then met with his Hezbollah handlers in Beirut to provide them with the information he collected, according to the indictment.
Hizran's Hezbollah handlers pressured him to continue broadening the information he provided them with using visual documentation, but he refrained from doing so.
Hizran told Shin Bet investigators that in 2009, during a family trip to Lebanon with his wife and children, he was offered to meet with Hezbollah agents and agreed.
In his secret meetings with Hezbollah, he was told the organization was interested in recruiting Palestinians with European passports so they could use their passports to enter and move freely through Israel and gather intelligence for Hezbollah.
He visited Lebanon again in 2011 and 2013, when he also met with Hezbollah agents.
For his meetings with the Hezbollah agents and agreeing to cooperate with them, Hizran received $2,300 in 2009 and an addition $800 in 2011.
Hezbollah, Hizran told investigators, was also interested in information about the operations of Ben Gurion International airport, including the entry process and security checks.
Hizran also provided Shin Bet investigators with information about a group called "The Lebanese House" that operates in Malmö, Sweden. The members of the group are Shiites who are involved in social and cultural Shiite activity, mark Hezbollah anniversaries, watch speech of Hezbollah chief Hassan Nasrallah, and more.
The Shin Bet said in a statement that the tasks Hizran received from his Hezbollah handlers are "proof that Hezbollah is preparing for the next war with Israel and is marking out a 'target bank.'"
Hizran's Israeli lawyer, Leah Tsemel, denied the charges, telling Reuters that he "refused any request to harm Israel's security."
Reuters contributed to this report.