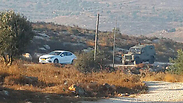 Adei Ad
Photo: Tazpit News Agency
Defense Minister Moshe Ya'alon issued on Sunday administrative detention orders for two radical right-wing suspects, Meir Ettinger and Evyatar Slonim.

Their remand was scheduled to be extended on Sunday, but following Ya'alon's edict they could remain in custory for up to six months without being brought before a judge.

The two, who are in their early 20s, were arrested last week. Another suspected Jewish extremist, Mordechai Mayer, was placed under six-month administrative detention last week.

Last week, the Security Cabinet approved the use of harsh measures to combat the trend, including administrative detention, which allows Israel to hold suspects for lengthy periods without charge. The measure has been mainly used against Palestinians suspected of involvement in terrorist groups, and rarely against Israelis.

The Shin Bet security agency has accused Ettinger of leading an extremist Jewish movement responsible for encouraging attacks on Palestinian property and Christian holy sites, including an arson attack on a well-known church near the Sea of Galilee in northern Israel that marks the New Testament story of the miracle of the loaves and fish.

Adv. Aharon Roza of Honenu said on behalf of his clients that "it is unacceptable that Ettinger and Slonim's administrative detention will substitute their court hearing today. It seems like the judicial process is just a charade." The Defense Ministry said that the decree was issued following the recommendation of Shin Bet security services.

Israeli human rights activists who advocate on behalf of Palestinians, as well as lawyers for the Israeli suspects, criticized the use of administrative detention, portraying it as a draconian measure intended to appease an Israeli public shocked at the firebomb attack.

"It is carried out based on an administrative order only, without indictment or trial, and the detainee cannot defend himself against the allegations as the evidence is classified," a statement by human rights group B'Tselem said.

"This measure is dangerous...for the entire legal system and for democracy," said Aharon Rozeh, a lawyer for Ettinger and Slonim, who said his clients were innocent.

Israeli security forces raided the settlement of Kokhav HaShahar and the surrounding area in the West Bank late Saturday night and made a series of arrests, settlers said Sunday morning.

Israel Police's nationalist crimes unit also operated at the nearby Adei Ad outpost in the Binyamin area in the wake of the arson attack on a Palestinian home in the village of Duma that claimed the lives of a baby, Ali Dawabsheh, and his father, Saed Dawabsheh, and left the 27-year-old mother and her second child, aged 4, in serious condition. A gag order has been imposed on the investigation.

Settlers claimed that some of the search warrants were issued in the middle of last week, while others were issued a week ago.

The Shiloah Valley area, which has seen repeated clashes between Jews and Palestinians, is considered a main stomping ground for the so-called hilltop youth, a radical faction of the settler movement.



A statement issued by Honenu, an organization offering legal advice to Jewish hate crime suspects, said that at least 15 "hilltop youths" have been arrested across the Binyamin region and taken for questioning. Some have already been released after being questioned by the Shin Bet.

Defense lawyer Itamar Ben-Gvir said that the arrests are "meant to assuage politicians' anxieties. I hope that next time they'll use a tranquilizer instead of sending police to impinge on people's liberties."

"I only hope that Arab terror will produce a similar public backlash that will lead police to arrest terrorists preemptively," he added.

On Saturday, Saed Dawabsheh, who was injured in the Duma arson attack last month, was laid to rest after succumbing to his wounds. Hundreds attended his funeral, which was followed by clashes with Israel Defense Forces troops.

Not a single Palestinian Authority official attended, as opposed to dozens of Hamas operatives who were conspicuously present.

In a statement published following the news of Dawabsheh's death, the Islamic organization said: "Dawabsheh's death highlights the crimes perpetrated by the Zionists. Resistance has become our right, our duty and the only way to defends ourselves in the West Bank. The only way to deter the settlers is to engage proactively against them, rather than wait until they attack our villages and homes. Our people in the West Bank are left with no choice but to launch an all-out attack against Israel, without further ado.

The Associated Press and Reuters contributed to this report.