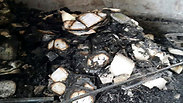 The Custody of the Holy Land, the Vatican's representative body in Israel, called on Attorney General Yehuda Weinstein to indict high-profile Jewish supremacist Bentzi Gopstein on charges of incitement to racism.

In a letter to Weinstein, the Custody's legal adviser cited comments Gopstein made at a panel discussion last week, where he said that burning churches complies with Jewish law.

"I implore you to employ all the legal measures at your disposal," Adv. Farid Jubran wrote on behalf of the Vatican. "Mr Gopstein's incitement puts churches and Christian communities in a clear and present danger."

During a panel discussion at Jerusalem's Netivot Hochma on Wednesday, Gopstein said that "burning idolatry" is a legitimate Jewish practice that was stipulated by Maimonides, the Medieval Jewish sage.

Gopstein is the chairman of Lehava, an organization that seeks to prevent the "assimilation" of Jewish Israelis.