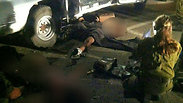 Druze attack wounded Syrians in Golan Heights
Two residents of a Druze town in the Golan Heights were indicted on Monday on charges of murdering wounded Syrian men while they were being taken to an Israeli hospital.

According to the indictment, dozens of residents of Majdal Shams ambushed an Israel Defense Forces ambulance carrying two lightly wounded Syrian nationals last June. While driving through the town, the ambulance was stopped by a number of ATVs, and soon surrounded by an angry mob. The medical staff locked themselves inside the ambulance, and the accompanying military police told the rioters that the patients are soldiers. Rejecting the claim, the mob manhandled the ambulance and smashed one of its windows.

Druze lynching ( )

Also according to the indictment, the driver escaped the mob and drove to the nearby village of Neve Ativ, where it was seized again and the two Syrian patients were attacked. One of them was killed and two IDF soldiers were wounded.

The victims, who were allegedly affiliated with the Islamist rebel organization Nusra Front, were attacked in revenge for attacks perpetrated by the organization against Druze communities in Syria.

The lynching was partially filmed by one of the perpetrators. They are seen to be shouting, stomping the wounded men and beating them with a stick.




The defendants were identified as 22-year-old Amal Abu Saleh and 48-year-old Bashira Mahmoud.

"We have found clear evidence against the defendants," said Superintendent Eli Fuchs of Israel Police's Northern District. "We have pictures showing the female defendant hurling stones at the victims and the male defendant beating one of them with a stick."

"The defendants have not justified their act," he added. "However, the female defendant said that her relatives had been killed in Syria by ISIS and Nusra Front. She said: 'If your family had been raped and murdered, how would you have reacted?'"

According to Superintendent Fuchs, the victims weren't affiliated with any rebel group. "The wounded Syrian was repatriated after giving evidence. He didn't recall much from the incident."

Mahmoud's lawyer told Ynet that his client was not involved in the attack. "We will show clear-cut evidence that she had nothing to do with the murder," he said.