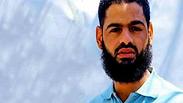 Palestinian hunger striker Mohammed Allaan
The director of Ashkelon's Barzilai Medical Center, Dr Hezi Levy, said on Monday that he would refuse to allow the force-feeding of a Palestinian hunger striker.

Mohammed Allaan went on a hunger strike 55 days ago in protest of his administrative detention. Allaan, of a West Bank village of Einabus, has been detained since November last year on suspicion of involvement in Islamic Jihad terror activity and other charges that, according to his lawyer, are unknown to him.

Last month, the Knesset passed a law allowing force-feeding of hunger strikers provided there is a threat to their life.

On June 18, Allaan was hospitalized at Be'er Sheva's Soroka Medical Center as his medical condition deteriorated. Channel 2 reported on Sunday that if Soroka doctors continue to oppose his force-feeding, he will be transferred to Barzilai in the coming days.

Following the report, Barzilai medical staff wrote a letter to Dr Levy, asking him to refuse to admit Allaan. "I will not feed him against his will," Levy said on Monday.

The new law was met with sweeping criticism from Israel's medical establishment, who said that force-feeding is tantamount to torture and is unethical.

Dr Leonid Eidelman, the chairman of the Israel Medical Association, said that he would petition the High Court of Justice in a bid to ban force-feeding.

"Our position is firm and unchanged: Force-feeding is torture," Eidelman told Ynet on Sunday. Physicians are ethically bound to refrain from taking part in it, whether it takes place in prison, in hospital or in a specially designed clinic. Torture is torture."

Meanwhile, the International Red Cross expressed concern over the condition of Allaan, who has been handcuffed to his hospital bed for 16 days.

"We believe that Mr Allaan's life is at immediate risk," said Jacques de Maio, the head of the ICRC delegation in Israel and the occupied territories. "His family has been unable to visit him since 22 March, and they are very anxious about him. Given the current circumstances, we ask the Israeli authorities to allow them to see him as a matter of urgency."

The Palestinian Authority has launched a campaign for Allaan's release, in an attempt to draw international attention to his plight. Palestinian officials have criticized the amendment of the Israeli law, and said they would contest it at the International Court of Justice in The Hague.