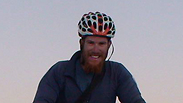 Roei "Ginger" Sadan, an Israeli adventurer who rose to fame by traveling across the world's continents on his bicycle, was severely injured on Sunday during a trip to northern India.

After an hours-long effort to rescue him, Sadan, 33, was airlifted to a New Delhi hospital Monday morning for emergency treatment.

Roei Sadan in his element

Sadan left on his voyage to the Himalayas roughly a month ago, and managed to complete a ten-day bicycle journey in that time.

Sadan's girlfriend was supposed to join him in India on Monday. While he was awaiting his girlfriend's arrival, Sadan went on a climbing trip with a group of European backpackers, during which he was severely injured in an avalanche.

"We don't know too many details about what happened," said Sadan's mother, Rachel, on Monday morning. Tears filled her eyes as she spoke from the family's apartment in Or Yehuda. "He arrived at the hospital in New Delhi and we're praying that he'll recover. He's a fighter and we believe he'll come out of this".

Sadan's father, Ami, told Ynet: "It can happen to anyone. He's a very responsible and professional boy, and he examines the area very well and has years of experience. This is his life. His life is world travel."

Israeli ambassador in India, Daniel Carmon, along with consul Ziv Bilaus, managed to arrange for an Indian military helicopter to airlift Sadan to a hospital in the nation's capital.

"We cooperated well after working well together during the disaster in Nepal," said sources at the Israeli embassy. Consul Bilaus remains by Sadan's bedside in the hospital.




"When the report came in of an Israeli who was injured in a climbing accident in northern India, the embassy immediately led a coordinated effort by all relevant parties to rescue and evacuate him to a hospital," said consul Bilaus. "The evacuation went smoothly, thanks to the assistance of Indian rescue units. There's no doubt that the quick reporting of the incident to the consular section of the embassy, the department of Israelis abroad, and the Foreign Ministry's situation room enabled the timely rescue and evacuation."

An improvised operations room was opened by Roei's friends at the Sadan family home in Or Yehuda, where they are receiving updates on his condition and making sure their friend gets the best care. "Some of us have already left for India, some are working from here, and some will depart soon," said Roei's friend Aviv Mizrahi.

Following his military service, Sadan began cycling around the world. In 2007, "Ginger" started a worldwide journey, during which he rode 66,000 kilometers, crossing 42 countries in America, Africa, Europe, Asia, and Australia.

Sadan's mother, Rachel, mentioned that his next plan was already set, and includes kayaking from Alaska to Mexico along the coastline.

His friends, meanwhile, promised to confiscate Sadan's passport until he's fully recovered.