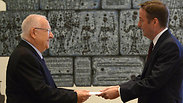 President Rivlin with Ambassador Quarrey
(Photo: Mark Neyman/GPO)
David Quarrey, the United Kingdom's ambassador to Israel, is making history by becoming the first openly gay British envoy to the Holy Land.

Quarrey stepped on the red carpet in the Presidential Residence last Thursday with Henriquez by his side, and presented his diplomatic credentials to President Reuven Rivlin.

The new UK ambassador to Israel introduced his husband to President Rivlin, who shook his hand warmly and said, "I hope you feel at home in Israel, and I'm very glad to have you here in my home. I wish you both the best of luck."

Henriquez is currently looking for work in Israel. His past job experience is in the culture and art fields, and he was part of the production team for the 2012 London Olympics.

Quarrey is the first openly gay British ambassador arriving in Israel with his spouse, but he is not the first openly gay ambassador to the country: A decade ago, the Danish ambassador brought his partner with him to Israel.

The Foreign Ministry also acknowledges same-sex couples, and there are a number of Israeli ambassadors around the world who have traveled with their partners.

Quarrey and Henriquez arrived in Israel just a short time before the Jewish terrorist attack at the Jerusalem gay pride parade, where 16 year-old Shira Banki was murdered.

After the murder, the two, who celebrated their fourth wedding anniversary in Jerusalem, went to the Open House for Pride and Tolerance in the capital, where they met with LGBT youth and parents who volunteer in the community. They listened to stories about the experiences of the teenagers and encouraged them to keep believing in themselves and to not be ashamed of who they are.

After Quarrey presented his diplomatic credentials to the president, Rivlin said: "I send my deep appreciation to Queen Elizabeth, and invite her to visit our region."