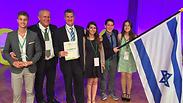 Israeli teenagers won third place at a competition for young entrepreneurs held by the Junior Achievement organization in Berlin last week.
The teens presented Sit Up, a safety harness allowing children aged seven and younger to be carried on one's shoulder, at the competition.
Start-up companies formed by teens from 37 countries participated at this year's contest. At 15, the Israelis happened to be the youngest participants this year.
Over 20,000 students from around Europe, who founded hundreds of small companies, were involved in this year's contest. The final included over 200 students from the companies chosen to represent their countries.
Four students chosen by their friends presented the Israelis' initiative: Shahak Musai, Ofek Konfidan,Sapir Paz, and Idan Hartman. Their company, Graffiti, reached the Berlin finals after winning the national contest in Tel Aviv in June.
The young company has sold dozens of their products in Israel thus far. According to Shahak Musai, the CEO of Graffiti, the product is not merely commercial, but also has a social aspect. "Sit Up is produced by the Netiv company in Hadera, which employ people with special needs," she said.
The judges' decision in Berlin was the culmination of three intense days in which the team had to market their product to an audience and a judges panel.
On the first day in Berlin, the students presented their product to the judges and other participants on the main stage. They then held a meeting with judges, who are senior businesspeople in Europe, and answered questions. Later, they set up stalls and tried to sell their product.
At this stage, there was noticeable interest in the Israeli project. A particularly exciting moment came when one judge – the CEO of General Europe, Professor Stephan Remelt – purchased the product and praised the Israelis.