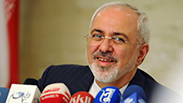 Iranian Foreign Minister Mohammad Javad Zarif's visit to Turkey was cancelled Tuesday, when he had been expected to present the Islamic Republic's recently developed initiative to reach a peace deal in Syria.

According to reports Tuesday in al-Araby al-Jadeed, the Iranian plan would divide control in Syria between the Assad regime and rebel forces, each controlling the territories they currently hold, while Aleppo would fall under international control since it is split between the army and rebel forces.

The deal also calls for cooperation between the regime and rebel forces to fight Islamic State forces and other terrorist groups. The fight against ISIS militants would be used as a tool to unite the the country's warring factions, and the Iranian initiative calls on rebels and regime officials to begin talks meant to result in a national unity government.

While the West has often called for the removal of current President Bashar Assad as part of any peace deal, the Iranian initiative would leave the President in place, but possibly vulnerable to elections that would be monitored by international observers.

The deal would also require an organized rebel leadership - a characteristic that fractured groups in opposition to Assad have struggled to form throughout the country's four-year Civil War.
Another proxy war?
But Iran isn't the only regional player that's opened a new diplomatic front in Syria. Saudi Arabia's Foreign Minister Adel al-Jubeir travelled to Moscow Tuesday to discuss the issues with Russian officials who have been backing the Assad regime financially, strategically and militarily.

According to the Saudi peace initiative, a transitional government would be formed in Syria and Assad would be barred from any future involvement in government.

Iran and Saudi Arabia are regional rivals and the two plans raise the potential for proxy-style conflict in Syria as both sides deeper their involvement after the resolution of Iran's nuclear deal with the West.

The Saudi plan calls on Iran to remove its forces from Syria, including Hezbollah troops, saying, "Iran can't be part of the solution because they are part of the problem."

Reuters contributed to this report.