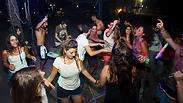 Musical diversity at Kinnergy in September 2014
Photo courtesy of Ben Pershitz
A strong and diverse musical scene is one of the staples of cultural success. Despite its relatively small size, Israel has it all - from today's biggest names in pop and hip hop to reggae and rockers that have been shaping the future of music since the 60s.

But it's not only the elaborate concerts and big stages that tell the story of Israel's remarkably diverse musical experience. "Underground," is a cultural compliment in Israel and often results in some of the most unique musical venues in the world.

This social mindset allows everyone in Israel to find a venue that matches their tastes and styles no matter how specific. One perfect example of this endless possibility is a little-known, yet quickly expanding festival on the shores of the Sea of Galilee called "Kinnergy," set to take place for the third year running on Friday and Saturday, August 14-15.

"The mix of options, from dancing and going wild just centimeters from the sea, to dancing in the water, or just taking an inflatable mattress to lay in the water with a drink in your hand and close your eyes while listening to the melodies… It's a feeling without equal," said Ben Pershitz, one of the event's producers.

Kinnergy is built on the solid foundations of the booming genre of electronic dance music - well, more specifically, trance music. But even within the world of trance music, Pershitz and his production partner Ofer Porat are focused on the unique subgenres of trance that are hard to find in other events.

"We like lots of different genres," said Porat, "but trance gives us a feeling that we haven't found anywhere else, so we decided to focus on trance and its subgenres at Kinnergy."

Kinnergy, named after the Hebrew word for the Sea of Galilee (The Kinneret) and a once legendary European trance festival (Trance Energy) started as a small get together between friends, but doubled in size every year to nearly 150 overnight campers in 2014.

Not only has the crowd grown, but production has improved and news of the unique event has reached the ears of internationally recognized Israeli DJs. Headliners for 2015 include Coming Soon, Vaitor, The KG Project and Ron Alperin.

Perhaps even more impressive than the diversity of Israel's music opportunities is the dedication of its fans and organizers who don't make any profits from intimate events like Kinnergy.

Participants are asked to pay NIS 50 and bring their own food and drink to cover the weekend.

Kinnergy takes place on Lavnun beach on the eastern side of the Sea of Galilee, offering an atmosphere that Porat could only describe as "magical."

Indeed, it's hard to believe that such a lively event could thrive just over 10 miles from the borders of both Jordan and Syria, where live isn't always soft beaches, warm sun and cultural diversity.

The event is just one example of many - a testament to Israel's endless musical possibilities.

Visit Kinnergy's official event page for more details.