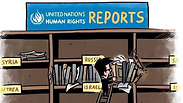 Bassem Naim, a former minister in Ismail Haniyeh's Hamas government in Gaza, posted a cartoon on his Twitter feed that mocks the UN's Human Rights Council (UNHRC), mistaking its meaning.

The cartoon is intended to show how the UNHRC is unfairly focused on Israel, while ignoring serial human rights violators such as Russia, China, Syria, and North Korea.

Naim, however, interpreted the cartoon very differently, leading to many jokes at his expense.

The cartoon, published on the TICP - The Israeli Cartoon Project Facebook page, features a UN filing clerk attempting to cram a new human rights report into the already overflowing shelf marked "Israel," while nearby shelves belonging to known civil rights violators remain nearly or entirely empty.

The misunderstood nature of the cartoon was discovered by Hillel Neuer of of UN Watch.

Naim, who regularly uses his very good English to attack Israel on social media, saw the cartoon and took away a very different message than was originally intended. According to him, the cartoon emphasizes Israel's true actions, as opposed to Syria and Sudan, which are innocent.

Naim attached the cartoon to a tweet, in which he wrote that Israel is a terrorist state and should be removed from the UN. Responses to his error came quickly: People online pointed out to Naim that he missed the point of the cartoon, which criticizes the UNHRC's deficiencies.

The Israeli Cartoon Project is a Facebook page dedicated to generating clever and witty pro-Israeli messages, in order to combat anti-Israeli and anti-Semitic propaganda. It was founded by Yossi Klar and Asaf Finkelstein, both PR professionals, along with cartoonists Uri Fink and Shai Charka.

The Project features cartoons from some of the best-known cartoonists in Israel, including Vladik Sandler, whose cartoon Bassem Naim erroneously shared.