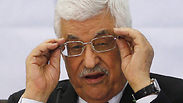 Palestinian President Abbas
Photo: Reuters
RAMALLAH - Documents leaked online detailing attempts by Palestinian officials to misuse public funds have triggered outrage, highlighting the corruption and mismanagement critics say remains rampant in the Palestinian government.

The furor over the documents comes as the Palestinian economy is stagnating and Palestinians grow increasingly displeased with government services. Palestinian Authority officials have defended their record on stamping out corruption, saying they've recovered millions of dollars in misspent funds.

A senior Palestinian official confirmed the documents authenticity to The Associated Press. They have offered a rare glimpse into the wheeling and dealing of the Palestinian government, long bogged down by rivalries.

One document signed by Majdi al-Khaldi, a diplomatic adviser to Palestinian President Mahmoud Abbas who accompanies him on his trips to world capitals, asked Bahrain's foreign minister for $4 million to fund a private neighborhood complex for Palestinian diplomats in an upscale area of Ramallah in the West Bank. He insisted the complex was "meant to resist the Israeli settlements," even though there are no settlements where the complex was built.

In order to convince Bahrain to invest in the project, al-Khaldi said the complex is to be built near a road on which Palestinians are not allowed to travel.

But the Facebook page that posted the documents said the apartments were not given to Palestinian diplomats, but rather sold in exorbitant prices to rich Palestinian businessmen and other prominent figures in the private sector.

Opposing Jewish settlements in the West Bank is a major rallying cry for Palestinians, who demand the territory that Israel captured in the 1967 Six-Day War as part of their future state, along with the Gaza Strip and East Jerusalem. It isn't clear if Bahrain ever paid the money. Al-Khaldi declined to comment when reached by the AP.

Another document by Nazmi Muhanna, general director of the Palestinian Crossing and Borders Authority, requested the government pay for his daughter's schooling as well as medical treatment for his family in Jordan for a total of $15,000, a hefty sum for many Palestinians. Muhanna defended his demand, saying it was permitted by the Palestinian government. The government later said it did not cover those expenses.

A third document is a receipt for $50,000 given to Yaser Abbas, Palestinian President Mahmoud Abbas' son. The junior Abbas bought several apartments in a complex in a prestigious area of Ramallah.

Outrage over the documents quickly spread on social media, where Palestinians challenged everything from their leadership's finances to its political legitimacy in the face of repeatedly delayed elections, last held in 2005.

"If Muhanna's daughter costs the Palestinian Authority 6,500 Jordanian Dinars (about $9,175) in private school in Jordan, what about the poor students in government schools? Who will pay attention to them?" Mohammed Abu Allan, a Palestinian political blogger, wrote on Facebook.

Observers say corruption has decreased since the 2004 death of Yasser Arafat. Abbas has promised reforms, but he has been criticized for ignoring corruption among his loyalists while targeting political rivals.

Azmi Shoabi, the head of Aman, a branch of the corruption watchdog Transparency International, said "there are big black holes" in the Palestinian financial and administrative system that "need to be addressed and reformed." Those include failing to publish financial reports properly and on time while not overseeing some 20 government-run funds headed by executives with excessive salaries, he said.

Various public departments have become "private kingdoms" for some officials, Shoabi said.

The Palestinian parliament, which has limited oversight powers, has been defunct since the Islamic militant group Hamas' 2007 ouster of Abbas' government in Gaza.

Rafeq Natsheh, who heads the Palestinian anti-corruption commission, said that the body is fighting against graft and has recovered millions of stolen dollars. But for Palestinians, the leaked documents only reinforced perceptions that their government remains tainted.

"We need to see the real picture which is much bigger than the fees of Muhanna's daughter," Rami Mehdawi, a columnist for the Palestinian al-Ayam newspaper, wrote on Facebook. "The entire Palestinian system needs to be addressed and reformed to clean up the rampant corruption, mismanagement and nepotism."

Liad Osmo contributed to this report.