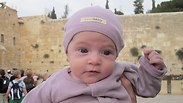 Ten months after their baby daughter was killed in the vehicular terror attack at the Ammunition Hill light rail station in Jerusalem, Chana and Shmulik Braun have welcomed a new baby girl.

Haya Zissel was the couple's only child, and was born after many years of waiting. When she was only three months old, a terrorist struck her stroller head-on as the family was returning from the Western Wall.

In the vehicular attack, in which Karen Yamima Mosquera was also killed, Haya Zissel Braun was thrown a few dozen meters away, suffering critical injury to her head. She was taken to Hadassah Medical Center on Mount Scopus with no pulse and not breathing and internal fractures in her head. Magen David Adon paramedics performed CPR, but hospital doctors pronounced her dead soon after.

Shortly after the attack, Chana Braun got pregnant again, and on Sunday the couple welcomed their new daughter. "We are grateful to the Almighty for everything," Shmulik Braun told Ynet. "We thank him today for bringing us a daughter".
'Lived to see the Wall'
Hundreds of people attended Haya Zissel's funeral ten months ago. Her father tearfully eulogized then: "You were pure. I want you to look at me and smile. Tomorrow will be your three month birthday. Everything is in God's hands, we will remember you."
Eight people were wounded in the vehicular attack, two moderately and four lightly. In addition to the baby, two men in their twenties arrived at Hadassah lightly wounded.
The baby's grandfather, Shimshon Halperin, is the son of the late Rabbi Rafael Halperin, a public Haredi figure and founder of the Optica Halperin empire.
After the announcement of the death of his granddaughter, he talked to the press about the severe trauma: "It was her first time at the Western Wall, she lived to see the Wall. They took photographs, they held her up in the direction of the Temple Mount. They told her: 'This is the site of the Holy Temple, the Temple Mount.'"
He went on to talk about how the difficult events unfolded: "They got off the light rail, then the car sped up, hit the stroller and the girl went flying… the parents were absolutely horrified. They were waiting for her for a long time, and she was welcomed with joy. I've been living in the United States for forty years now and we were here with them for the holiday. I always laughed with them, telling them the Almighty had sent them a gift from heaven ... God gave and God took away. This bloodshed must stop."