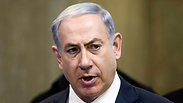 'Netanyahu has turned us into a fifth column in our country,' Jewish community member says
Photo: Reuters
Italy's Jewish community is furious over Prime Minister Benjamin Netanyahu's decision to appoint Jewish journalist Fiamma Nirenstein as Israel's ambassador in Rome. Many Jews fear that the appointment will be used by those who claim Italian Jews are more loyal to Israel than to their homeland.

Nirenstein, a former Italian parliament member, is an official member of Rome's Jewish community council. In addition, only two months ago she competed for the position of president of the Italian capital's Jewish community, but lost.

Nirenstein's Story

Fiamma Nirenstein was born in Florence, served as parliament member in Rome, until one bright day she decided it was time to make aliyah. While she still misses her previous life, she is joyful to be able to 'celebrate a holiday for the first time with my family, with my people, in my country.'

Although Nirenstein will have to give up her Italian citizenship if the appointment is approved, many are asking who will she really represent as ambassador – Rome's Jews or Israel?

Many Jews in Rome have voiced concerns of physical harm following the decision. "Netanyahu has turned us into a fifth column in our country," one Jewish official said in a closed forum. "If a former Italian parliament member, a Jew, becomes Israel's ambassador, it basically means that we recognize the fact that each of us, and every store we own, is in fact Israeli. People will think we have dual loyalty, and this holds disastrous consequences."

The Italian press has also been dealing with the issue. The La Stampa daily, which Nirenstein used to work for as a correspondent, addressed the question Jewish identity in the country, focusing on the comments of Rome's Chief Rabbi Riccardo Di Segni. "Fiamma is an excellent journalist, period," the rabbi said, "but I'm concerned there will be problems."

The Rome-based Il Messaggero newspaper chose to focus on Nirenstein's right-wing views.

Italian website Dagospia, which deals with political and social issues in the country, reported that one of Nirenstein's sons serves in the Italian intelligence agency. According to the website, the appointment has created a lot of confusion in the intelligence agency, as under the rules employees are not allowed to have any family ties to foreign diplomats.