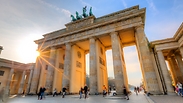 Berlin's Brandenburg Gate. First half of 2015 recorded 197,000 overnight stays of Israelis
Photo: Shutterstock
It's official: Israeli tourists are conquering Berlin. The number of nights spent by an Israeli tourist in the German capital is higher than the number of nights spent by a tourist from any other country, according to figures released by the Berlin Tourist Board.

According to the data, an Israeli tourist spends an average of 3.6 nights in Berlin during his or her stay. An American tourist spends 2.7 nights in the city, a Chinese tourist spends 2.1 nights, and tourists from all European countries spend an average of 2.7 nights per visit.

Tel Aviv vs. Berlin:

The price difference between hotels belonging to the same chain in the two cities is so high that Israelis could spend a week-long vacation in the German capital – including a flight and a hotel room – and pay much less than for a Tel Aviv hotel alone.

The first half of 2015 recorded 197,000 overnight stays by Israelis in Berlin, a 25 percent increase from the first half of 2014. A review of all tourist stays from foreign countries places Israel in the second place after the United States. American tourists spent a total of 477,000 nights in the German capital during that period, a 16% increase.

The number of Israeli tourist stays is nearly the number of stays of tourists from China, Hong Kong and Brazil combined, and is almost four times higher than the number of stays by Japanese tourists and three times higher than the number of stays by Canadian tourists.

The figures further reveal that June saw a 13 percent increase in the number of Israelis arriving in Berlin. The number of Israelis who visited the city in the first half of the year grew by 28 percent, reaching some 30,000. This is about one third of the number of tourists who arrived from the US.

The total number of tourists who visited Berlin in the first half of the year was 3.6 million, a 9 percent increase.

The number of tourists from Israel visiting Berlin is increasing gradually, and there are currently four regular airlines offering flights on the Tel Aviv-Berlin route: El Al (through its low-cost subsidiary, UP), Air Berlin, easyJet and Lufthansa.