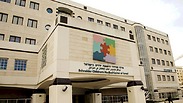 Schneider Medical Center. Study finds link between length of treatment and feelings of solidarity
Photo: Zvika Tishler
Despite all the rifts in the Israeli society, there is one place where we're all equal: The hospital.

When it comes to sick children, the feeling of solidarity between the patients and their family members from all ends of society is even deeper, and they all feel the same concern for the sick child. As a result, a new study shows, parents of Arab children hospitalized in Israel feel a stronger sense of solidarity with the State.

The research, which was conducted at the Schneider Children's Medical Center by Rudaina Badir, a PhD student and teacher from the hospital's educational center, found a significant difference in the reinforcement of Israeli identity among parents of children from the Arab society who have been hospitalized in an Israeli medical center compared to parents of children who have not been hospitalized.

The study was conducted in a bid to understand the contribution of the interaction and shared experience between the hospital walls to the reinforcement of Arab and Israeli identity among Arab parents whose children have been hospitalized in Israel.
'Hospital serves as a bridge to peace'
The study included 62 parents from the Arab society whose children were hospitalized in an Israeli medical center, and 32 parents from the Arab sector whose children were not hospitalized in an Israeli medical center as a control group.

All parents from the Arab society whose children had been hospitalized in Israel filled questionnaires at the beginning and end of their child's hospitalization. Parents in the control group filled questionnaires simultaneously.

The research findings pointed to a significant difference between the two groups of parents in terms of the reinforcement of Israeli identity and reduction of Arab identity.

The length of the treatment was also found to be significant in terms of these feelings of identity among the parents. In addition, the findings pointed to a link between the parents' hospitalization experience and satisfaction and their feelings of Israeli identity.

The study was conducted as part of the work of Schneider's Education Center, headed by Maskit Shochat, which deals with the intercultural discourse as part of the educational discourse with the hospitalized children and their families. The research strengthens the importance of the educational research and the need to understand the unique needs of each nation.

According to the hospital's spokesperson, "Schneider is a medical center which raises the banner of serving as a bridge to peace and treating children regardless of their religion, race or nationality. Out of this perception, the hospital staff speaks many languages and the signs in the hospital are in Hebrew, English and Arabic. Children from many countries in the world arrive at the hospital for medical treatment."