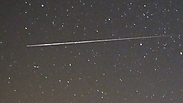 Many in Israel and all over the world stayed up all of Wednesday night to watch the Perseids meteor shower. Six thousand of them gathered at Mitzpe Ramon to witness the magnificent spectacle in the sky.
A convoy of vehicles snaked throughout the day to the area of Mitzpe Ramon. Thousands came to the Spice Route quarter to watch the shooting stars and thousands others took their place in the Negev Desert, in Khan Be'erotayim and Timna Park.
"During big events, one can hear the falling of stars," said Effie Perry, tourism director of the Negev Highlands. "When a lot of people get together, every time there is a shooting star there is a big wow. It is an amazing experience."
The Perseids meteor shower as seen from Mitzpe Ramon (צילום: סוכנות החלל הישראלית, רן)
Orna Ehrlich arrived at Mitzpe Ramon from Kiryat Ata with her daughter Na'ama, 16, and her son Shir, 18. "For years I taught the kids about space. I decided that after so many years of teaching that it was time to see something for real," she explained.
"Astronomy is very interesting. Ever so often we look at the sky of the Krayot and can't see anything as there is too much pollution. When we travel to someplace a bit dark we see the stars." Na'ama added, "I could have looked at it for hours."
Uriah Reich, owner of the restaurant Haberech tried to keep up with the pace. "We're not used to thousands coming to this place. We're accustomed to working more relaxed," he says with a smile but says that he prepared in advance.
"There is always a feeling here that we are the closest to the stars. The whole year like is like that. And one night a year everyone realizes it."
"Events of this magnitude are a blessing, "said Barak Nevo, one of the owners of the restaurant Hakatze. "Mitzpe Ramon fills up and you can see a convoy of cars. All day people came. I also go out with my kids to watch."
Matan Friedman came as part of the astronomy club of Tel Aviv University. "I came to talk about the research being done in the observatory. This event happens once a year, always in August. The sky here is much darker and the climate allows us to look at the stars better.
"The city council darkens the city to make it easier for us to see the stars," Friedman continued. "We look up and try to understand what all those points of light are. That's what attracts people here, to understand what happens beyond day to day life. To hear what else there is to know about these stars that we see every day over our heads."
Moshe Mayerfeld from London arrived with his six children aged two to 20. "One stayed in London", he said. "This is to meet the Creator. It is a very special occasion. It is great to be together and see something that many people do not get to see. This is one of the wonders of God." 8-year-old Judah said, "I do not see such stars in London."
Minister of Science, Danny Danon, said, "Space exploration is one of the most exciting ways to create joint dialogue between the citizens of Israel from all over the country and to bring science alive for children and youth. The arrival of thousands to Mitzpe Ramon attests that interest in the subject is increasing. The Ministry of Science, Technology and Space will continue to provide accessibility and develop programs to expose the Israeli public at large to space."