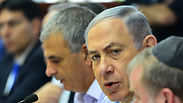 Prime Minister Benjamin Netanyahu at a budget meeting
Photo: GPO
The Knesset will be asked to approve NIS 4.5 billion of cutbacks to government ministries in the 2015-2016 state budget, a protocol from a government discussion about the budget revealed.
The night the government voted to approve the new state budget, it also decided to make additional cuts amounting to NIS 1.5 billion from the different government ministries.
These cuts will be done in stages, with NIS 500 million cut in 2015, and NIS 1 billion more in 2016. This in addition to NIS 3 billion in cuts in 2016 that appear in the original budget proposal.
The NIS 1.5 billion cut will be done by reducing an equal sum from each ministry's budgetary clauses, except for clauses in which the cuts would affect agreements the government has signed.
The biggest cuts will be made to the Defense and Education ministries. Each of these ministries will suffer some NIS 1 billion in cuts in 2015-2016. The Education Ministry, however, received a budgetary addition of close to NIS 5 billion.
Another significant cut will be made to the transportation development budget, where some NIS 750 million will be cut.
The cuts are a result of talks between the Finance Ministry and ministers who threatened to vote against the budget. Each of these ministers received a budgetary addition for their ministry in return for voting to approve the budget.
Welfare Minister Haim Katz received NIS 200 million for his ministry; Public Security Minister Gilad Erdan received several hundreds of millions of shekels; Culture Minister Miri Regev secured an addition of NIS 260 million for her ministry; and Education Minister Naftali Bennett got several hundreds of millions that would come in the form of reducing the cuts to his ministry's budget.
The government decision also notes that the cuts were also meant to help fund the construction of a border fence on the Jordan border, which would reach 30 kilometers north of Eilat. The cost of this construction is estimated at some NIS 200 million.