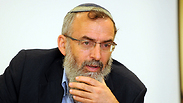 Rabbi David Stav
Photo: Yossi Zeliger
Police placed security on the house of Tzohar chairman Rabbi David Stav on Thursday night following intelligence that radicals were planning to hurt him over the formation of an alternative conversion courts.

A police vehicle will be patrolling around Stav's home until further notice. The municipality of Shoham, where Stav serves as the chief rabbi, has also decided to add to his security.

Earlier this week, Religious Zionist rabbis and liberal religious organizations announced the formation of a system of courts independent from the Chief Rabbinate, which will work to convert the non-Jewish immigrants from the former Soviet Union who are living in Israel.

The Foreign Ministry and Chief Rabbinate do not recognize alternative conversions in Israel, even if they were done according to Halacha, but the founders of the new courts system hope that if many converters choose this alternative track, the public pressure on the Rabbinate will increase and this policy will change.

Rabbis Yaaqov Medan, Re'em Ha'Cohen, Shlomo Riskin, David Stav and others have joined with Itim (the Right to Live Jewish), the Harry Oscar Triguboff Institute and Beit Morasha of Jerusalem to form these alternative conversion courts. They promise potential converts a friendly process and leniency.

The move is supported by the Jewish Agency. The court will be led by Rabbi Nahum Eliezer Rabinovitch, a leader in Religious Zionism movement.

Meanwhile, Israel's chief rabbis strongly criticized the courts and the more liberal allies. At the first convention of the B'noam organization, a lobby group working to strengthen the chief rabbinate, Chief Sephardic Rabbi Yitzhak Yosef said that the rabbis were acting out of improper motives, for personal reasons, and not in the service of God.

Chief Ashkenazi Rabbi David Lau accused the rabbis of fighting against the Torah. He said the rabbinical leadership has always fought attempts to damage the Torah and Jewish law.

"We will not give up the Torah of Israel, the halacha passed to us from generation to generation," said Rabbi Lau. "This Torah will not be replaced and there will be no other Torah. According to it we will act with a soft heart, with caring and love towards all the created."