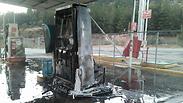 Scorched remains of the gas stop
Photo: Judea and Samaria Fire Dept
A fire broke out at a gas station on Highway 60 near the settlement of Eli on Friday evening, with police suspecting arson, in what could be Palestinian revenge for what is believed to be a Jewish arson attack at a Bedouin encampment the previous day.

According to an initial report, a car with unknown perpetrators drove into the station, allegedly poured flammable material, and fled.

Three firefighting teams worked to put out the fire, while the gas station's pumps were burned completely. No one was hurt.

Police forces and fire investigators arrived at the scene to gather evidence and an investigation was opened at the Judea and Samaria Police Department's Binyamin District.

The gas stop, which is used by both Israelis and Palestinians, is on Highway 60 in the Binyamin region of the West Bank, near the Eli cemetery and the entrance to the settlement.

A week ago, only 10 minutes away from the gas stop, a Palestinian driver rammed into a group of soldiers in the nearby Ma'ale Levona Junction, wounding three of them.

On Thursday, a Bedouin tent encampment serving as a storage area near Ein Samia in the Binyamin region was set on fire and burned to the ground. No one was hurt in the attack.

A graffiti writing on a rock in the area read "Administrative Revenge" in Hebrew, which could indicate the arson was in revenge for the recent arrest of several radical right-wing activists, including Meir Ettinger, the grandson of US Rabbi Meir Kahane.

Ettinger and two others were put in administrative detention for six months, while two other "hilltop youth" activists were slapped with restraining orders from the area for four months.

Several minors were arrested following the arson of the Bedouin tent, and a gag order was placed on the investigation.

The IDF boosted its troops in the area after the arson in Duma where a Palestinian baby and his father were killed, while his brother and mother were seriously and critically wounded and are still fighting for their lives. It is believed Jewish perpetrators were behind the attack in Duma.

The attack led to an increase in stone-throwing and the hurling of Molotov cocktails at moving vehicles on the main roads in the West Bank.

Rotem Elizera contributed to this report.