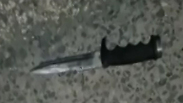 Another stabbing on Route 443
Photo: Police Spokesperson's Unit
A Palestinian stabbed a border policeman at a junction near Huwara, a West Bank town close to Nablus, on Saturday at around 6pm, only hours after another stabbing in the West Bank. The soldier was lightly wounded, and the Palestinian was fatally shot.

According to the Israeli Police spokesperson, the Palestinian approached a team of fighters that was carrying out a routine check, then suddenly took out a knife and began to stab one of the men in the back. A soldier standing next to him shot the attacker, mortally wounding him.

The Palestinian Ma'an News Agency said the attacker was 16-year-old Ahmad Kamil Rafeeq al-Taj, citing the Palestinian Red Crescent Society.

Scene of the second attack on Saturday (צילום: דוברות מד"א)

Late Saturday morning, a Palestinian stabbed an Artillery Corps soldier at a checkpoint near Route 443 near Beit Horon in the West Bank, not far from where another Israeli was stabbed on Sunday, the IDF said.

The Palestinian, from the nearby village of Beit 'Anan, was shot by the soldier at the checkpoint and arrested. He was lightly wounded and received treatment at the scene.

The soldier, who was lightly wounded in his hand, was also treated at the scene.

Both soldier and suspect were later taken to Shaare Zedek Medical Center in Jerusalem for further treatment.


The Palestinian suspect arrived at the IDF checkpoint at around 11:30am, and asked one of the soldiers for water, an initial investigation into the incident found.

Before the soldier could aid him, the Palestinian pulled out a sharp object and stabbed the soldier in his upper body.

A soldier that stood next to the stabbed soldier quickly fired at the suspect's shoulder, neutralizing him. Other soldiers at the checkpoint apprehended the Palestinian.

In his interrogation, the stabber said he had a fight with his father earlier Saturday, during which the father beat him, and that is why he decided to commit the attack.