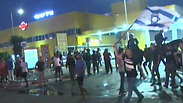 Photo: Roei Idan
Photo: Roei Idan
Ten Arabs were arrested Sunday evening at Ashkelon Junction during protests in solidarity with a suspected Islamic Jihad member in administrative detention, Mohammed Allaan, who is currently hospitalized at Ashekelon's Brazilai Medical Center, 61 days into a hunger strike.

Some 150 took part in the protest and turned violent, throwing rocks and physically clashing with police. Joint Arab List MK Hanin Zoabi was also present at the protest.

The protesters attempted to block the highway, but were dispersed by water cannons. Police said they were attacked by pepper spray and rocks.

According to security officials, four buses of Palestinians arrived to participate in the protest and were informed that a demonstration of that size would be considered illegal.

Five Jewish Israelis were also arrested earlier Sunday when they faced off in opposition to an illegal demonstration in front of the hospital in solidarity with Allaan. One of the arrested Israelis allegedly threw a rock, damaging the vehicle of a Palestinian journalist.

Allaan's lawyer petitioned the Supreme Court for his release on Sunday on grounds of his poor health.

Around 200 people, including members of Knesset and religious leaders, protested on Saturday afternoon on Route 65 Wadi Ara calling for the release of Allaan.

Among the MKs who arrived were Ahmad Tibi, Hanin Zoabi, Jamal Zahalka, Yousef Jabareen and Osama Sa'adi , all representing the Joint Arab List.

Allaan briefly lost consciousness on Friday, but was resuscitated by doctors.