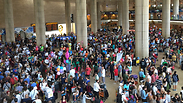 Arrivals hall on Friday
Photo: Oren Rosenfeld
A breakdown in the Interior Ministry's computer system this week, which disabled the border control system at Ben Gurion International Airport for several hours, led to hundreds of Israelis entering the country without their passports being checked, Ynet learned on Sunday.

Thursday saw an all-time record in the number of passengers passing through the airport. When the border control system broke down on Friday, airport staff was forced to work manually, causing massive lines in the passport control area. It took more than three hours for the glitch to be fixed.

Passengers enter Israel during the glitch

When those who entered Israel without being checked called the Interior Ministry on Sunday morning as instructed, they were told they must appear at one of the ministry's offices and report their return to Israel.

"I was told that as far as the authorities are concerned, I'm not in Israel and if something happens to me, national insurance won't compensate me," said Shlomi, a traveler who returned from vacation in Italy.

"It's absurd that because of a problem at the Interior Ministry, I have to waste time and stand in line for hours to get a signature on my passport and so they put me in the system," added the passenger.


While the computer problems lasted for three hours, as the beginning of Shabbat was about to begin, the ministry decided to allow many Israelis to enter the country with manual registration. The absence of electronic registration raised the possibility that citizens wanted for questioning or about whom there was criminal or security-related information could have entered unnoticed.

Based on the number of incoming flights, the number of passengers who entered Israel during this time was more than 1,300. "I was shocked by the situation," said one passenger. "Every now and then a representative selected someone and compared his face to the passport picture, but in most cases they just let people pass without any checks."

The Administration of Border Crossings, Population and Immigration said in a statement: "Passengers who are Israeli citizens and who entered on Friday without their entry being logged, will have to do so independently. That said, we are considering solutions to ease the process for the passgeners and make it more efficient."