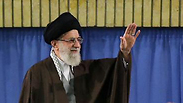 Iranian Supreme Leader Ali Khamenei
While Prime Minister Benjamin Netanyahu has been leading a campaign against the Iran nuclear deal, IDF Intelligence has pointed to possible benefits to Israel as a result of the agreement.
The IDF Military Intelligence Directorate's Research Department recently presented its stance on the deal to the political leadership, and along the risks and problems – which Israel has pointed out many times – it mentions a number of opportunities and positive possibilities that the deal can lead to.
While noting that the risks are greater than the rewards, Military Intelligence emphasized the possible positives that could come of the deal. Primarily, that Iran will not have military nuclear capabilities in the coming few years. In addition, the United States is currently negotiating with Iran over different security issues relating to the Middle East. The Research Department went on to say that the deal might also rein in Iran and stop it from performing terrorist acts against Israel, such as bombing embassies.
Alongside that, Military Intelligence also presented the risks involved in the deal, among them the fear of a nuclear arms race in the region, which could include countries like Saudi Arabia and Egypt. Countries in the region have already began buying increased amounts of conventional weapons from the United States and France, and invested billions of dollars in anti-air defenses and purchases of F-16 fighter jets, as did Iraq.
Another risk is the fact that the world now sees Iran as a legitimate, unblemished state.
Earlier in the month it was revealed that the leader of Iran's elite Quds Force, Qassem Suleimani, traveled to Russia in July, where he met high-ranking government officials. The Fox News Channel reported that he met with President Vladimir Putin and Foreign Minister Sergey Lavrov.