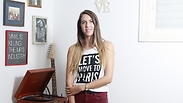 One of Israel's oldest social enterprises, the volunteer service year done before joining the army, might not start operations next year due to severe budgetary problems.

Every year, some 2,000 volunteers help thousands of elderly and at-risk youth.

"Stopping Israel's volunteer service year is in effect telling young people that the state has no interest in humanitarian action. It is taking someone's desire to contribute and help others, and throwing it in the garbage," says Rotem Alon-Giladi.

More than a decade has passed since Alon-Giladi, 28, served in the Scouts' Garin program, but the stormy ongoing battle to save the volunteer service year has been keeping her awake at night.

"My volunteer year was the most significant year of my life, and was accompanied by a feeling of serving on a great mission," she says, visibly upset.

"My volunteer work was done in the Hatikva neighborhood (in Tel Aviv), helping the elderly and at-risk youth, and it exposed me to a reality and a population I was previously unaware of. I was able to connect with people. We set up a club in a nursing home, from scratch, and the feeling was that you were giving an elderly person something to look forward to, and showing him that the young generation cares about him."

Some will say that volunteering is possible at any age.

"The volunteer sevice year comes at the right place and at the right time. At 18 years of age, one is full of energy and creativity and just wants to conquer the world. And that's exactly what this program provides: It helps directing all of that to action in the real world," Alon-Giladi says.

"The army is an important platform for the formation of the Israeli identity and there are people who get so much from their military service, but volunteering by choice has a different kind of power. This is the new Zionism, since we no longer have to drain swamps. This is a kind of Zionism that comes from personal choice on how to give back, and is a testament to the character of our youth, of its solidarity and humanity."
An essential enterprise
A week ago, representatives of youth movements and organizations decided that the situation had become unbearable. In a letter sent to Prime Minister Benjamin Netanyahu, Defense Minister Moshe Ya'alon, Education Minister Naftali Bennett and Finance Minister Moshe Kahlon, they demanded to save this wonderful enterprise.
"Help us to contribute and give back to the state," they declared. "Help us to give teens who want to volunteer the ability to do so.|
"The volunteer year of service is one of the most important, Zionist, and democratic enterprises in Israel today," says Ilan Gazit, secretary general of the Machanot Haolim youth movement. "For over 70 years, it has been guiding about 400,000 children and youth all over the country, among them are at-risk youth and youth in the periphery, in movements and organizations from across the political spectrum. These are 18-year-olds who decide to postpone military service for a year of mission work."
The campaign's main demand is to raise the budget to the volunteer service year program so it stands at 90 percent of the budget given to the national service program (a volunteer program that religious girls can opt for instead of army service).
"Each year there are about 2,000 service volunteers," Gazit says. "The organizations that run the program no longer have enough money to maintain this operation. We received NIS 30 a day per volunteer from the state, which is supposed to pay for rent, transportation, training, and support for volunteers. It is not enough, we are on the verge of collapse."
In 2014, then-education minister Shai Piron established a committee that determined that the volunteer year service's budget should increase from NIS 25 million to NIS 55 million.
"NIS 30 million is not an impossible increase for the sake of the moral backbone of the Israeli society, which is also where tomorrow's leaders are born," Gazit says. "The government's aid currently makes up only 40 percent of our budget, when according to the committee it should be 90 percent. It is clear to everyone, including officials and ministers, that this is a major social endeavor, and that Israel will not be the same without it. And the Israeli government only has to invest very little, in order to get a lot in return," Gazit adds.
A contemptible budget
Alon Einav, 19, heard of the possible cancellation of the volunteer year of service in the midst of a successful year of service in the Maccabi movement.

"The budget we are get is a disgrace," he said. "This protest and the struggle to increase the budget should have started long ago. People do not realize how much it would hurt the youth movements and organizations. This is a direct hit at something which contributes so much to everyone in the country. It is a year which matures and empowers you."

Einav says that if the service year doesn't open in September as it should - which appears to be the case - "the branch at which I volunteer will simply close down. It's a shame for a year's worth of effort, and it is especially a shame for the youth who had the structure and now will find themselves in front of a closed door."